Historically, live chat has had a strong association with customer service - particularly in retail. However, the benefits of live chat extend to a range of industries and use cases, with a recent study of live chat trends showing that:
41% of customers prefer live chat support over phone support
52% say they'd buy again from a company that offers live chat
79% of businesses say implementing live chat has boosted customer loyalty and sales
With the promise of instant responses and conveniently remote communication, live chat has gone from "nice to have" to a staple of good digital experiences. Adding a live chat experience to your website or app also enables you to:
Provide faster customer support: Live chat resolves queries 13x faster than email or online forms. Customers can skip the FAQs and ask their questions directly, get more context for their specific use case, or have their query fast-tracked to the right team.
Deliver a better customer experience: The average customer satisfaction rate for live chat support is 83.1%. Realtime support helps businesses quickly address concerns and smooth out any bumps in the customer journey. It can also help to pinpoint gaps in the app or website's user experience.
Increase sales, revenue, and customer loyalty: Customers that use live chat spend 60% more per purchase, and 63% say they're more likely to return to a website that offers live chat. With a direct channel for targeted messaging and personalized deals, it makes sense that live chat can boost a company's conversion rate by 3.87%.
These are just a few of the reasons why businesses are adopting live chat as a way of attracting and retaining customers. This article showcases 11 creative live chat examples, and explains how you can easily bring live chat to your website or app.
11 of the best live chat examples
Companies are turning to live chat to problem-solve in realtime, proactively guide prospects through the customer journey, collect customer feedback, and even onboard new users in a more engaging way.
Here are some notable examples of live chat done right across social messaging, customer engagement, livestream, and custom chat applications.
Social messaging examples
Social messaging within a website or app is designed to connect and engage users around the world. Think of popular apps like Facebook Messenger, Instagram, and Discord that have all the hallmarks of modern messaging: emojis, GIF support, editing capabilities, and direct or group chats.

Here are a couple of real-world examples.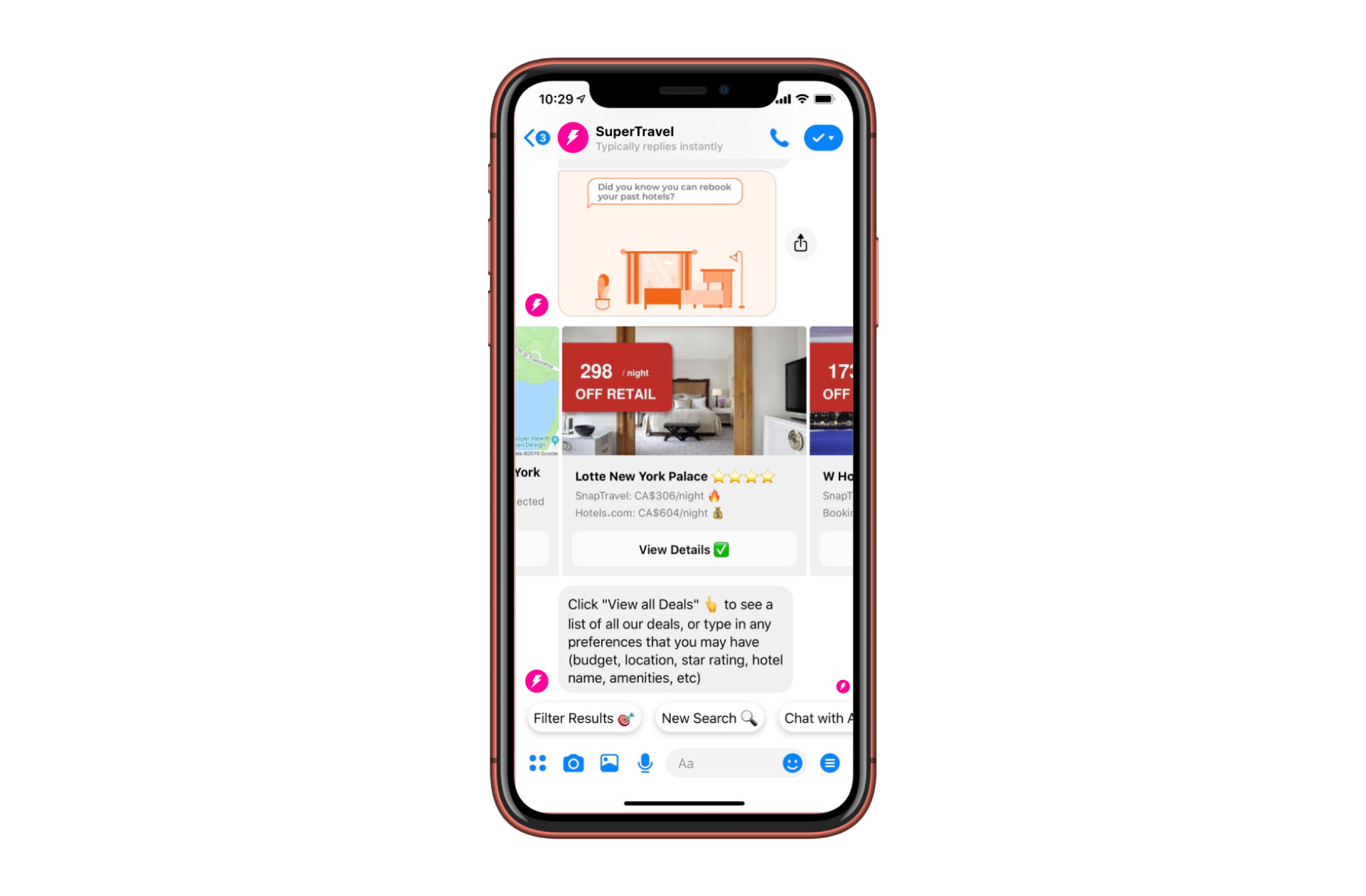 How Super is using live chat
Super is a shopping experience company that gives customers access to exclusive deals. In their Super Travel offering, once a customer selects their destination and dates, they can choose between SMS, Messenger, or WhatsApp to speak to others searching for similar deals, or get instant personalized customer support. Super essentially operates as a travel agent and exclusively deals with customers over 1:1 messaging, which also promises lower rates since there's no overhead of a physical store.
How live chat is supporting Super's business
Super is betting on the fact that younger audiences prefer to get instant information without having to speak to an actual person. Live chat lets them book hotels or shop in a way that's "as easy as messaging a friend." Super hasn't discussed the effectiveness of their messaging-only approach, but considering NBA star Steph Curry is investing in them, their outlook seems promising.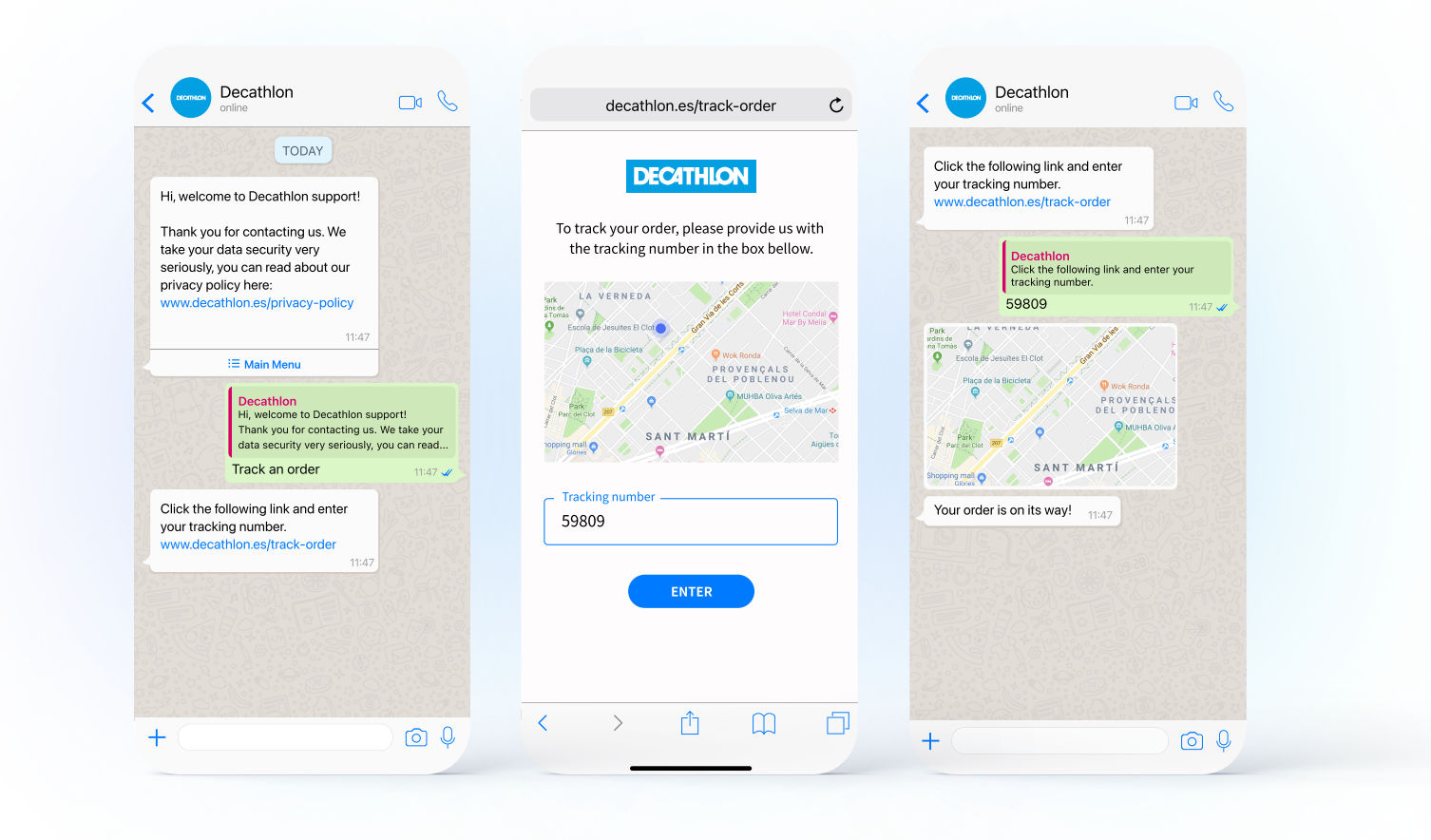 How Decathlon is using live chat
As the largest sporting goods retailer in the world, this retailer handles an enormous number of customer support issues. Slow response times over phone and email led them to use WhatsApp for its fast and easy live chat capabilities. Primarily, they added automations to engage with customers more efficiently and distribute complex queries to available agents.
How live chat is supporting Decathlon's business
With WhatsApp handling their live chat support experience, Decathlon was able to offer self-service support for customers with simple queries, decrease average handling time by 50%, and maintain a 4.5 out of 5 average customer satisfaction score on that channel. Plus, the ability for each agent to handle multiple queries at once allows Decathlon to solve more customer support issues without hiring new agents.
Customer engagement examples
Using live chat for customer engagement adds a personal touch to the customer experience. Marketers can connect with people one-on-one for targeted offers, customer support can answer questions directly, or customers themselves can use it to search for information that guides them toward a purchase.
Here are four examples of live chat for customer engagement.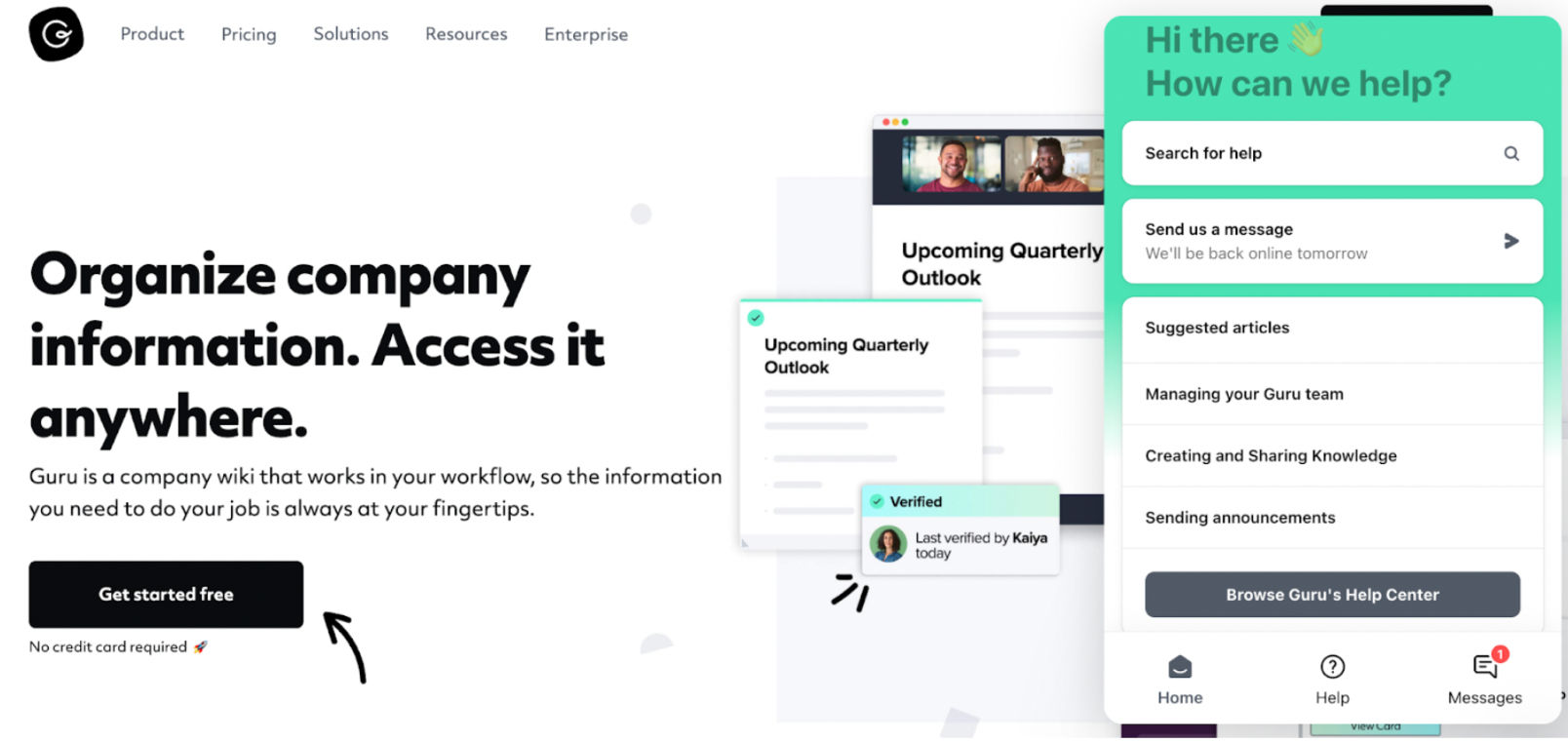 How Guru is using live chat
Guru's main motivation was to have more personal interactions with visitors to truly convey their quirky, approachable brand. Their multi-purpose live chat feature has become a cornerstone of their support strategy, and can be used as a help center, a channel for direct messaging, and an opportunity to showcase relevant (or frequently requested) content.
How live chat is supporting Guru's business
Customers can see the name and profile picture of their support agent to make the interaction more personal, and agents use emojis and GIFs to reflect the brand's laid back personality. Their custom bot triages inbound conversations, routes customers to the right team, and helps sales representatives have better conversations with pre-qualified leads. Since integrating live chat, Guru has been able to support nearly 900 monthly conversations with an impressive 95% customer satisfaction score.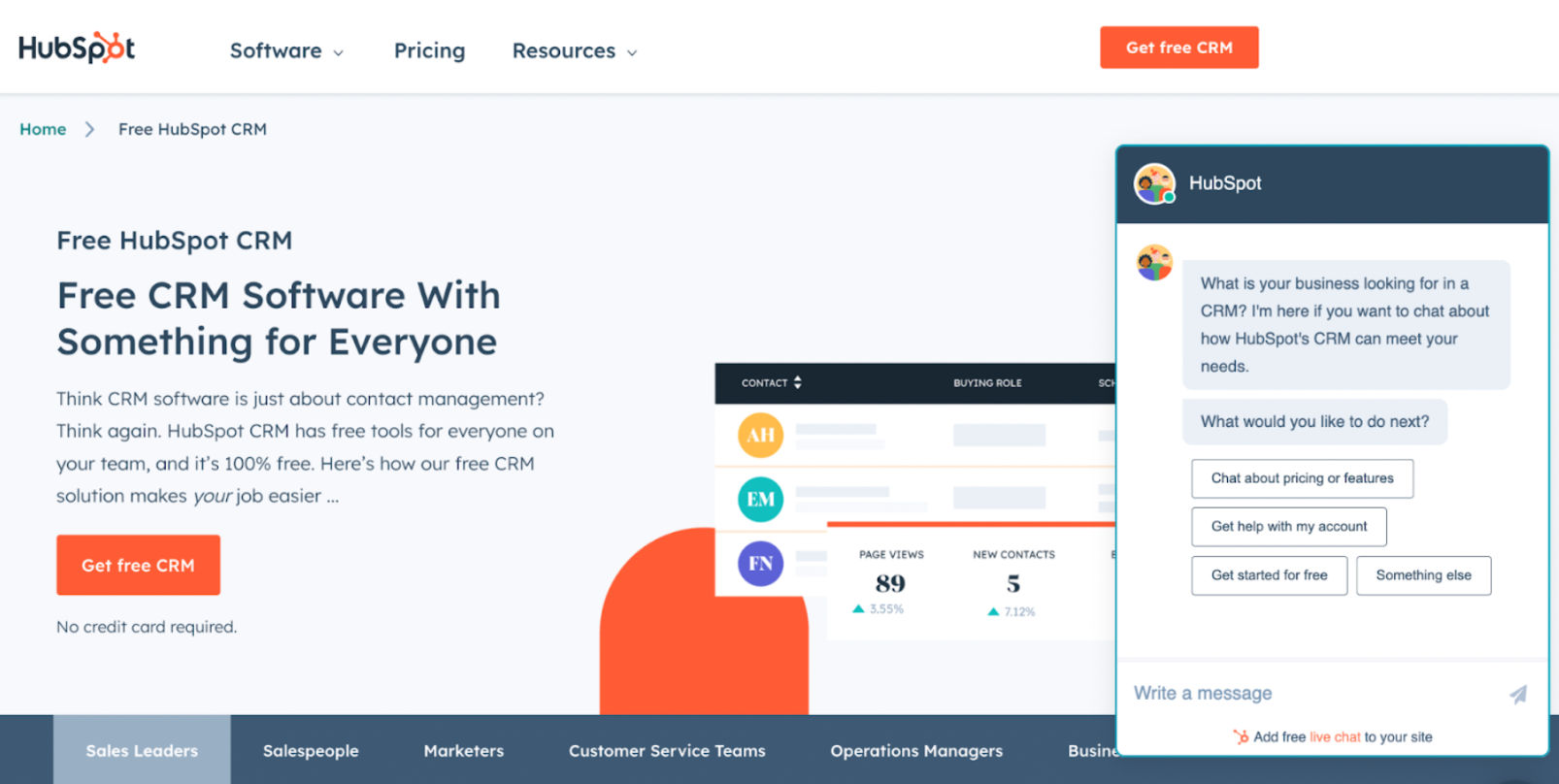 How HubSpot is using live chat
HubSpot equips 128,000 businesses with live chat so they can attract and engage customers to better support their sales, marketing, and customer service. They also use it on their own website as a way to nurture prospects while simultaneously advertising their live chat functionality.
How live chat is supporting HubSpot's business
HubSpot's live chat tool powers more than 500,000 business-critical conversations every month for customers across 120 countries, delivering on their promise to help businesses connect with their customers in realtime to drive revenue growth.
Learn how HubSpot powers live chat experiences while saving $300,000 every year in infrastructure and engineering costs in this case study.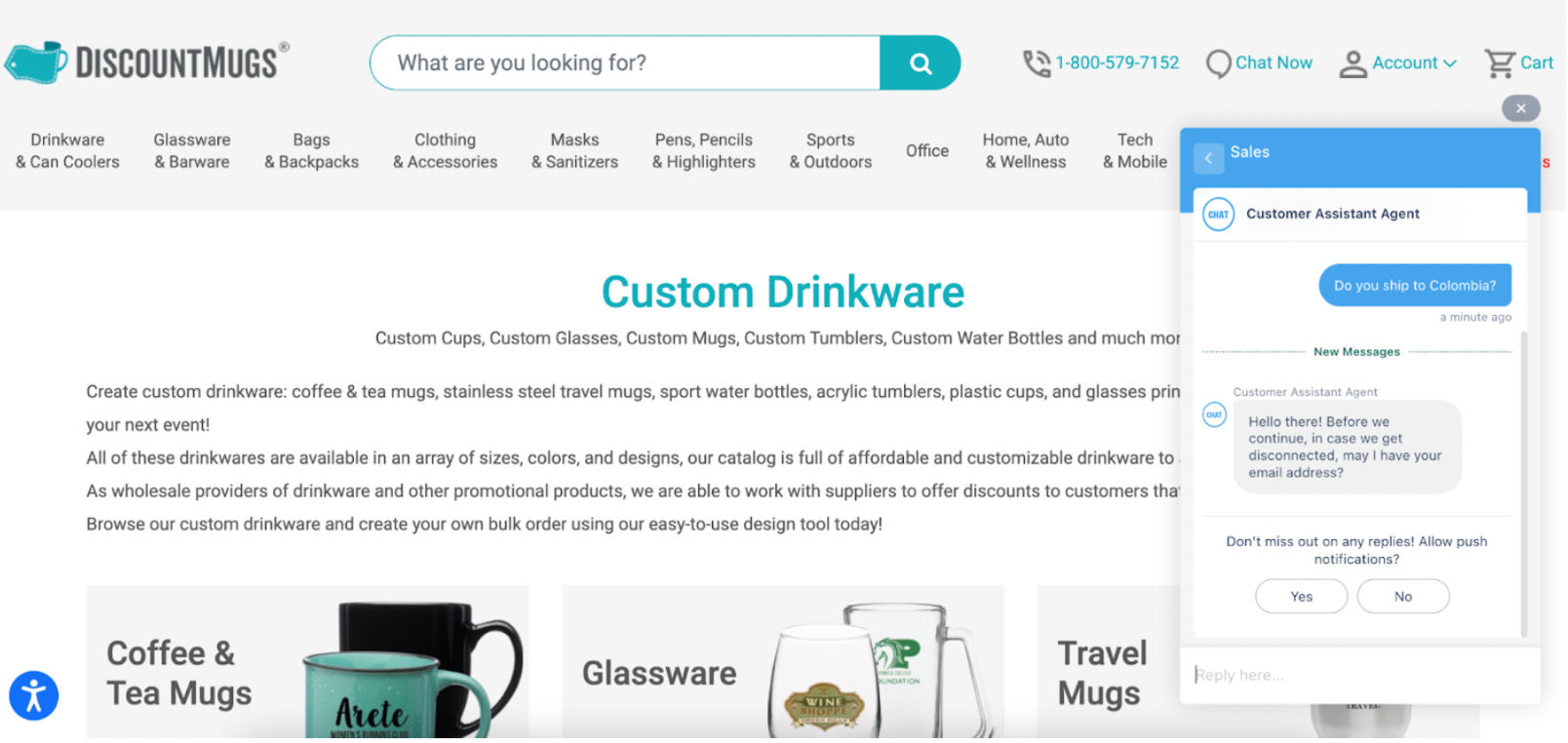 How Discount Mugs is using live chat
To ensure no customer query goes unanswered, Discount Mugs immediately asks for their email address so an agent can follow up if the chat accidentally disconnects. Another nice touch is the option to enable push notifications so the customer doesn't miss any responses while they browse. Their live chat also features "triggered campaigns" that proactively show customers relevant messaging. For example, scrolling the product page prompts a chat bubble asking if you need help placing an order.
How live chat is supporting Discount Mugs' business
Since integrating live chat on their website, they noticed a 40% drop in customer support phone calls due to their agents being able to efficiently handle multiple queries over live chat support instead. Plus, by showing visitors the right information at the right time, they also decreased bounce rates, reached over 3.1 million visitors with a 28% response rate, and increased the overall time spent on their website.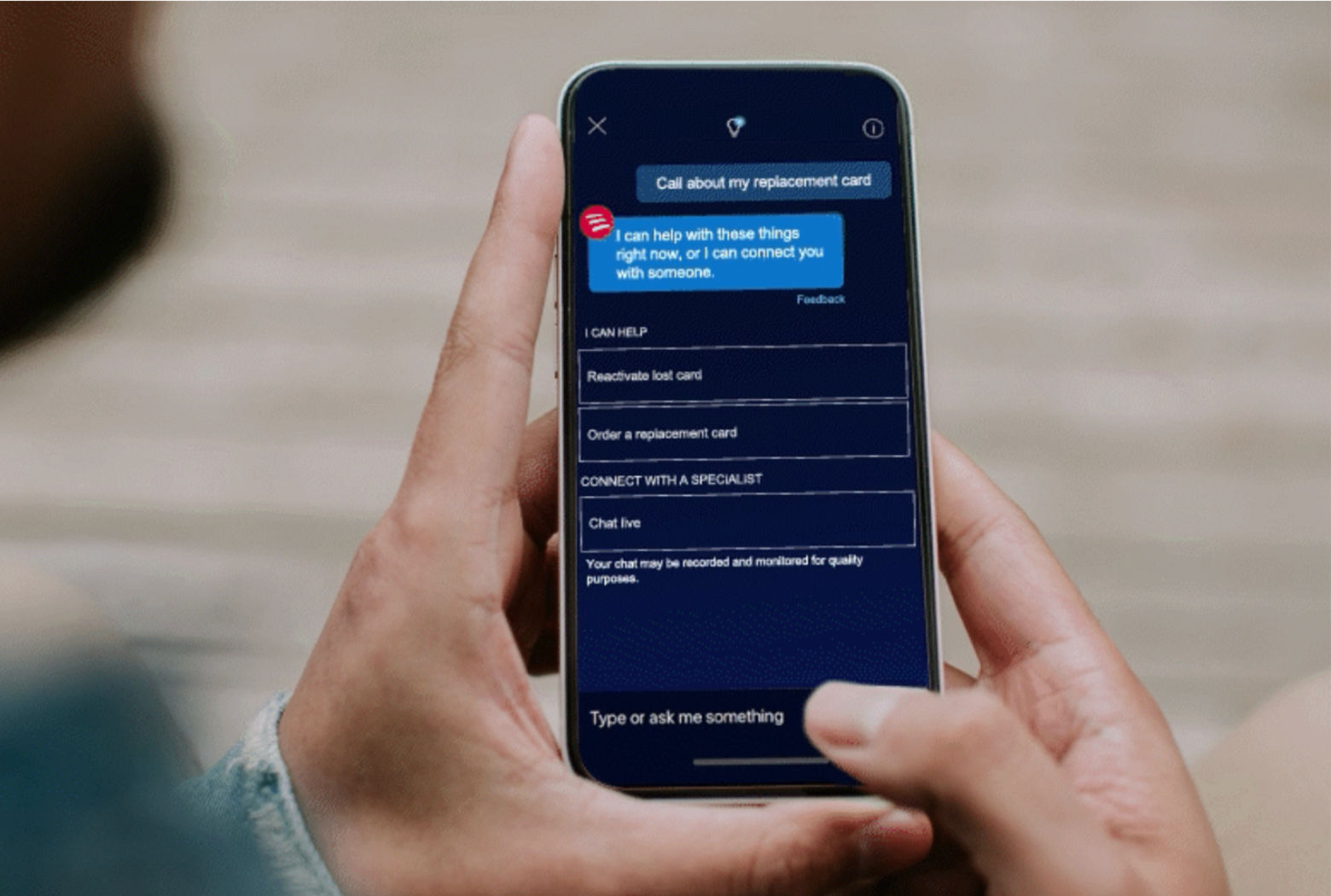 How Bank of America is using live chat
With a virtual financial assistant handling common requests and routing complex queries to specialized agents, Bank of America relies on their live chat to manage the daily influx of banking requests and concerns. It also enabled their team to reach out to customers proactively with targeted messaging or to grow awareness of a new product or service relevant to their banking habits.
How live chat is supporting Bank of America's business
Through live chat and virtual assistance, Bank of America was able to help more than 5 million customers complete over 75 million requests. Their virtual assistant also engages with customers around 400,000 times every day, which ultimately reduces the load on their human agents.
Livestream chat examples
Livestream chat allows broadcasters to engage and connect their audience during live events. Participants can chat amongst themselves during the event, or ask questions that the organizers can address in the moment.
Here are three examples of livestream chat.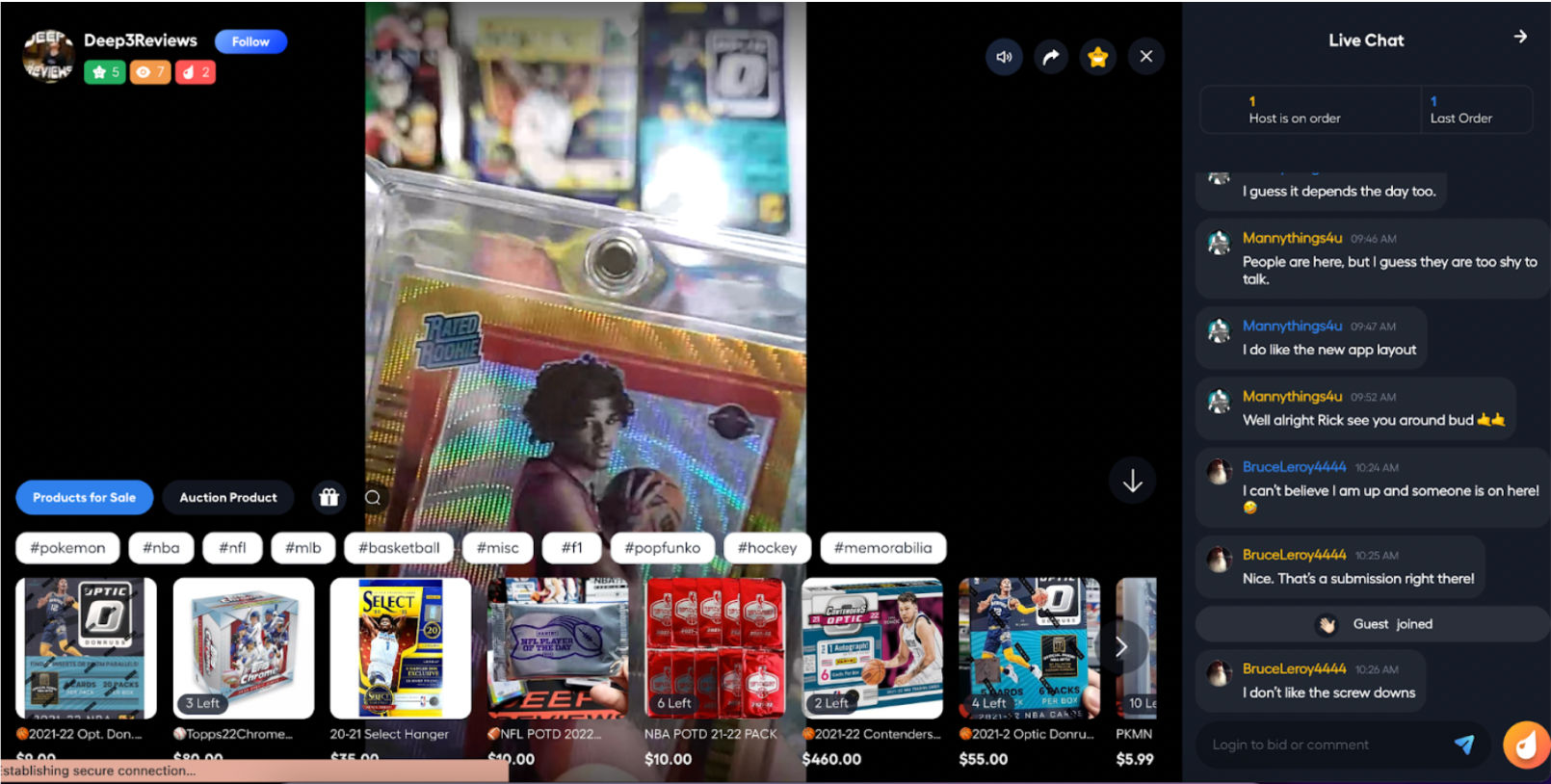 How DripShop is using live chat
This livestream auction platform uses live chat to connect buyers and sellers in realtime. Participants can ask the buyers questions during the auction, place their bids, and can use emojis to liven up their comments.
How live chat is supporting DripShop's business
Live chat makes perfect sense for a realtime bidding environment. It connects participants from around the world and gives them a space to chat and interact directly with the buyer—without phoning in or waving a numbered pallet in the air. For modern auction-goers, live chat is undoubtedly the most effective medium for remote bidding.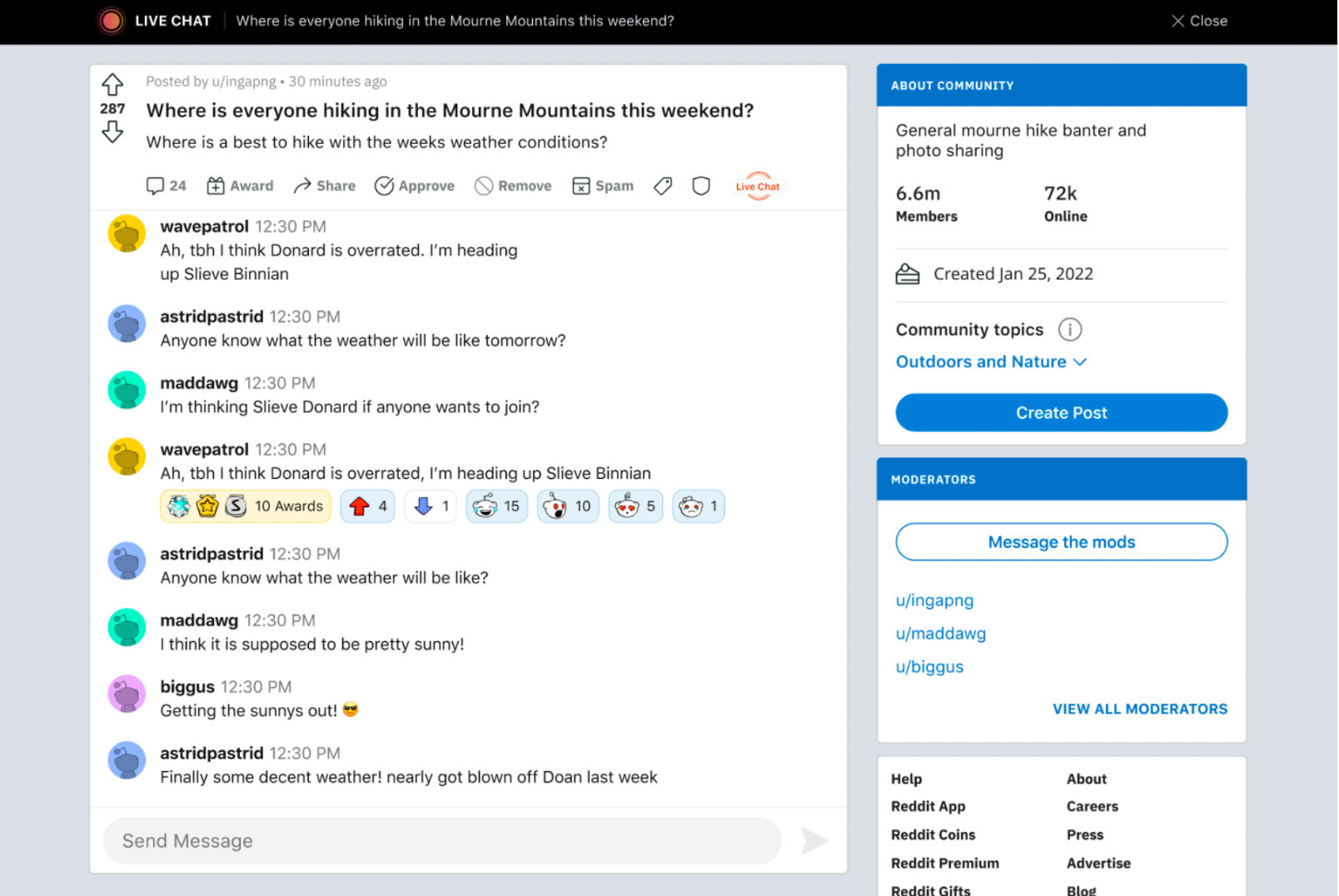 How Reddit is using live chat
Reddit is a discussion website where communities can post, vote, and comment on almost any topic. Live chat gives these communities an opportunity to have realtime discussions around specific events, like game days, watch parties, live events, product launches, or simply create a casual space to connect. Within the live chat, participants can react to messages with upvotes, downvotes, Reddit emojis, or even give awards to worthy messages.
How live chat is supporting Reddit's business
Discussions are an essential part of the Reddit experience. With live chat enabling those discussions to happen in realtime, users are encouraged to engage with fellow members, reportedly sending 10% more messages than in traditional forum-style discussions. This shows that live chat is helping Reddit further their mission to connect people around the world and foster a wider sense of community.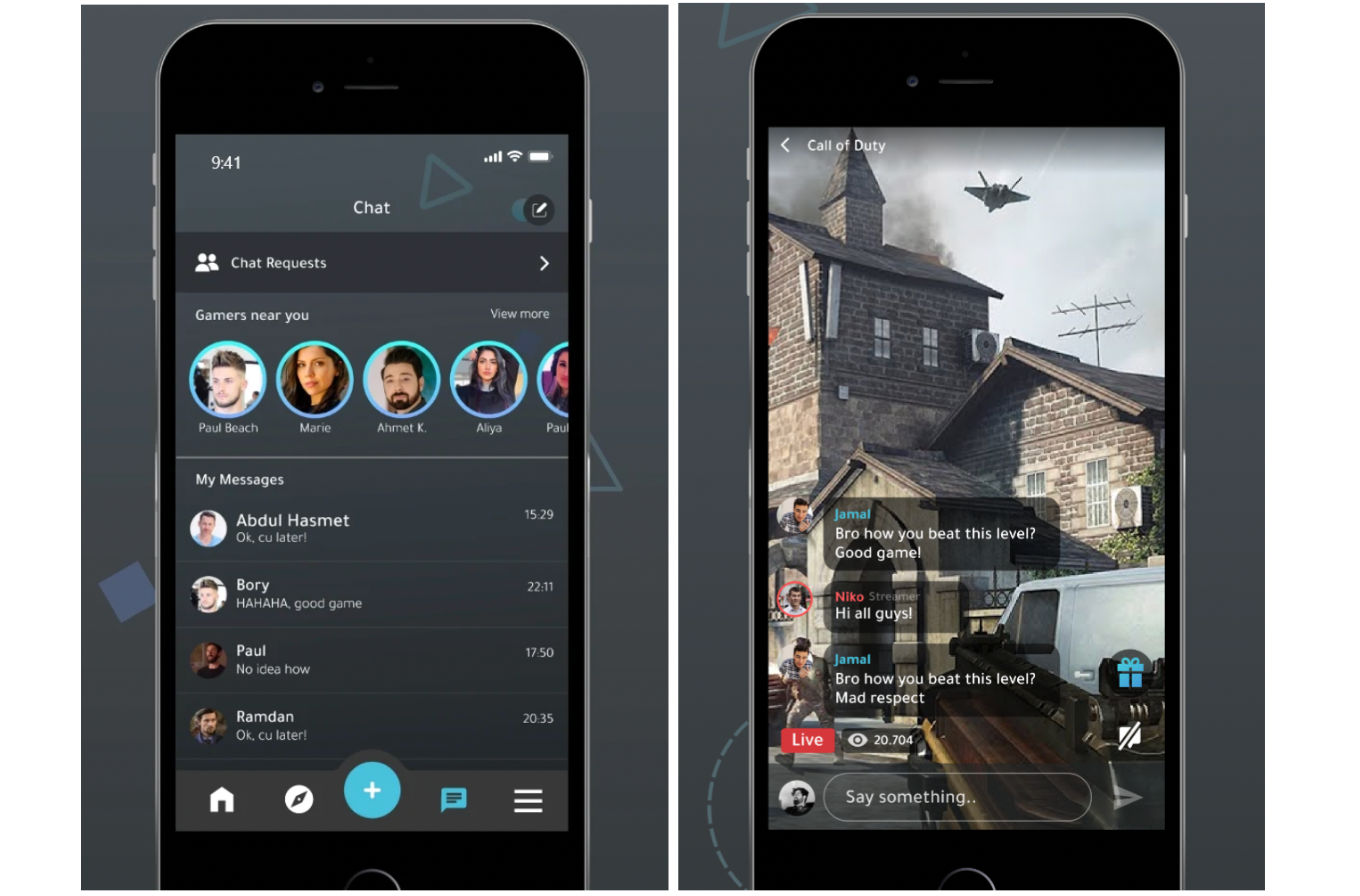 How WIZZO is using live chat
This online gaming community platform integrated live chat with the goal of increasing user engagement. Their in-app chat is designed for mobile devices, and encourages gamers to meet like-minded peers, discuss strategy, and chat 1:1 or among thousands of participants during live gaming tournaments.
How live chat is supporting WIZZO's business
Since adding realtime messaging to their app, WIZZO has seen a 10% increase in new user growth as live chat provides a convenient way for gamers to connect and build friendships. Based on the success of live chat, WIZZO is also looking into enhancing their realtime functionality with in-chat voice and video calls.
Custom live chat examples
Some chats are designed for specific use cases or to handle sensitive data, like in healthcare or government scenarios. These live chats require robust security measures and have to abide by industry-specific privacy laws, like HIPAA.
Here are two examples of custom live chat experiences: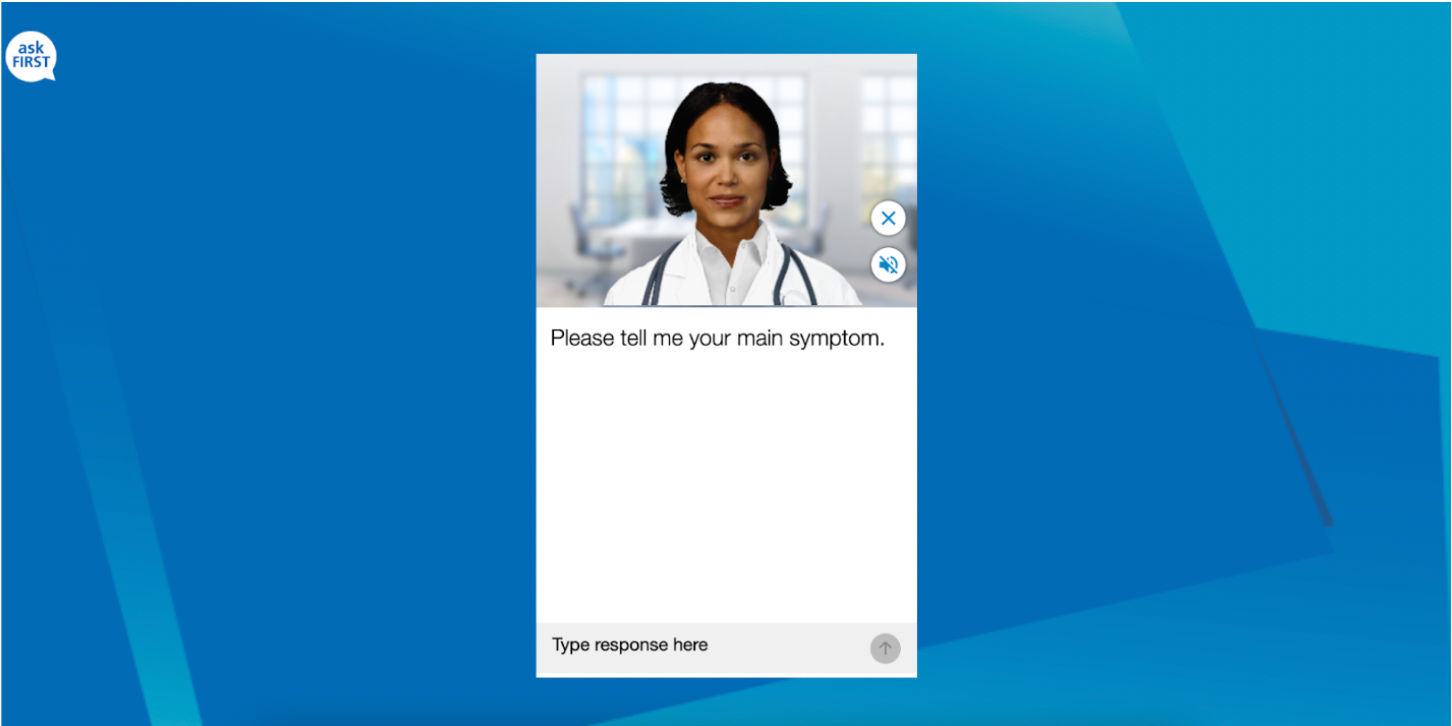 How AskFirst is using live chat
This platform takes live chat a step up with integrated audio and video. Patients can interact with a virtual nurse either through text or their device's microphone for symptom checking, searching healthcare content, scheduling appointments, or connecting with a physician over a video call.
How live chat is supporting AskFirst's goals
AskFirst connects patients to the right health service at any time and across web or mobile. The avatar automates the initial triaging to help clinicians manage the high demand for personalized health information. It already has over 500,000 registered users and has performed over a million symptom assessments.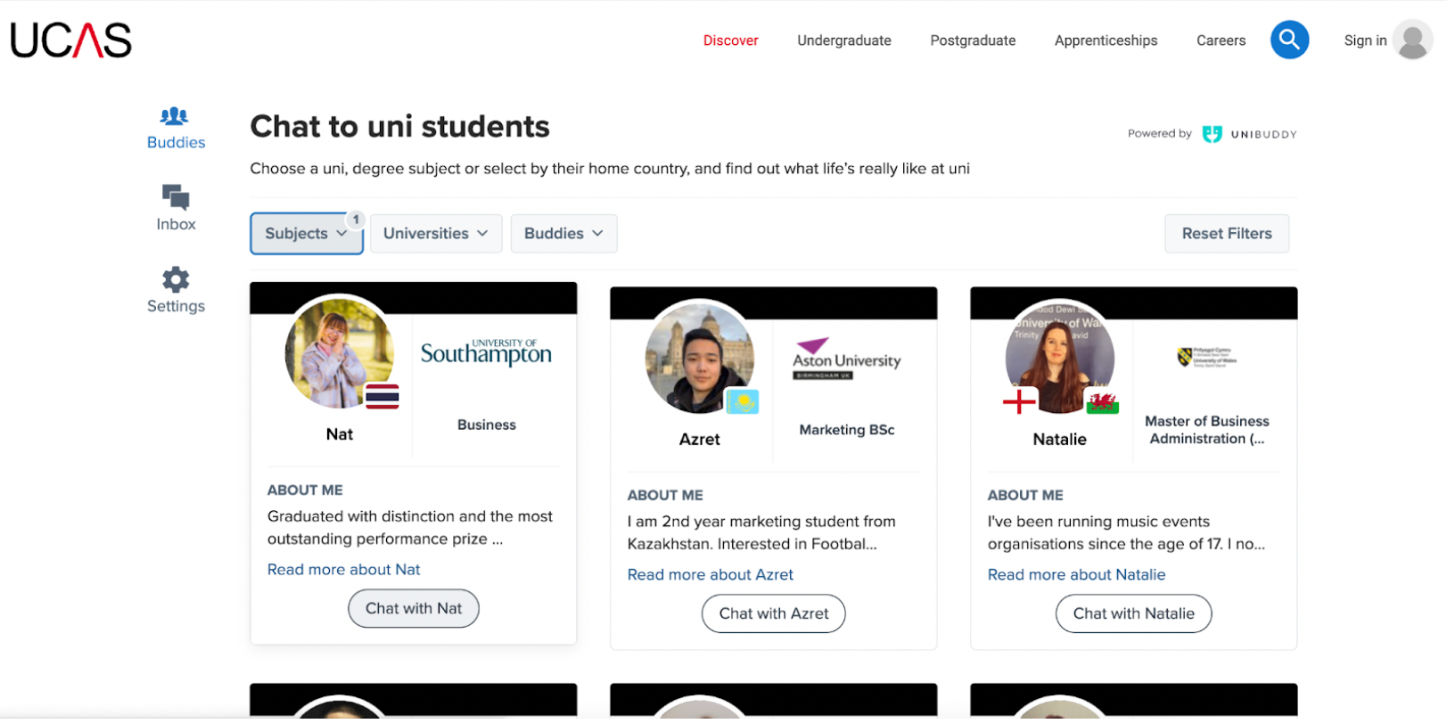 How UCAS is using live chat
UCAS wanted to help students at a pivotal point of the admissions cycle by giving prospective students the opportunity to ask their questions directly to staff and students. With live chat, visitors can filter students by university or subject, then click to chat with them privately. If the student is offline, the visitor will get an email notification of their responses.
How live chat is supporting UCAS' goals
These 1:1 chats help to encourage admissions by giving students a quick and easy way to learn about life on campus and getting real-world insight about their chosen degree. Through the chat signup fields, UCAS is also able to gather information about prospective students, allowing them to send more personalized communications based on the student's interests.
Critical success factors for live chat
Before exploring the options for implementing live chat, it is important to outline the success factors to consider - both technical and non-technical - when implementing a live chat system:
Performance: To deliver on the promise of realtime communication, your live chat experience should maintain low and predictable latencies to give users the quality of service (QoS) they expect, as well as specific operating boundaries for developers to design new features.
Reliability: Live chat should reliably deliver messages to user's devices without experiencing outages that impact the chat experience. This requires a solid, fault-tolerant infrastructure with redundancies and automatic fail-safes built in to guarantee around-the-clock availability.
Scalability: Competitive live chat apps need to be able to handle an increase in users without experiencing downtime due to insufficient capacity. With a highly elastic infrastructure, your live chat can react to sudden changes and maintain a high level of availability and performance at any scale.
Integration: Connecting live chat to third-party services in your tech stack, such as databases or customer relationship management (CRM) systems, allows organizations to provide a more seamless customer experience. For example, agents could access relevant customer information to deliver more personalized interactions.
Security and compliance: Users want to know their data is safe and protected. This means implementing robust security measures like authentication, permissions, and (preferably) end-to-end encryption to prevent unauthorized access and ensure compliance for each market use case (HIPAA, GDPR, SOC2, etc.).
User experience: Even if the underlying chat infrastructure works perfectly, a confusing interface or subpar usability will ruin your live chat.
At the minimum, your chat should sync user changes without delay, be intuitive to use, and integrate best practices, including:
Data integrity: Messages should be processed and delivered exactly once and in the correct order to avoid duplicated, unordered, or missed messages.
Presence indicators: Show customers when an agent is online, read receipts, and typing indicators to keep the customer engaged while they wait.
Emoji reactions: Allow users to react to received messages with emojis to liven up the chat and create a richer experience.
Avatars: Enable users to visually represent themselves to build more personal connections in digital spaces.
Roles: Give users different roles and capabilities to manage group chats, such as admin privileges or content moderators.
How to add live chat to your website or app
There are many ways to build a live chat system, and the best approach for you will depend on your specific requirements and resources. Here are a few options to consider:
Build a live chat system from scratch
If you have the time, team, and resources, you can build your own live chat system from the ground up. Depending on your chat requirements, you can choose from multiple messaging protocols, including WebSockets, MQTT, WebRTC, and XMPP. Or, use a realtime communication library like Socket.IO to handle realtime messaging with additional features for chat.
But that's only scratching the surface. You also need to think about databases, cloud storage, and all the costs and complexities involved in hosting, scaling, and maintaining a realtime infrastructure in-house.
Pros of building a live chat system from scratch
Flexibility and complete control over what chat functionality to build, and how to do it.
Choice of commercial or free, open-source technologies
Many have extensive documentation and community support available
Cons of building a live chat system from scratch
Building even basic realtime infrastructure is complex and costly, resulting in unpredictable engineering costs and operational expenses
Can result in a complicated toolchain that's challenging to scale and manage
No built-in authentication, authorization, and security
Difficult to guarantee performance, availability, or data integrity
Onus is on the engineers to accommodate different platforms, operating systems, and devices
Slower time to market as the team has to build and maintain every aspect of the chat system
Complicated to add new features in the future
TL;DR: This option is best suited for companies with flexible budgets that have the necessary workforce and technical expertise to build and maintain a realtime infrastructure in-house.
Use a Chat-as-a-Service (CaaS)
This is a type of software as a service (SaaS) that provides a platform for building and hosting live chat systems. They typically offer a range of features and tools for building chat functionality, including realtime messaging, chat history, customizable chat widgets, and third-party integrations.
They're a popular choice for businesses that want to add chat functionality to their websites or apps without the need for extensive development resources. Some popular CaaS platforms include Zendesk Chat, Tawk.to, and Freshchat.
Pros of using a CaaS
Minimal effort for setup and installation
Costs are more predictable
CaaS takes care of updates and maintenance
Can be integrated with other sales and marketing services across the business
Cons of using a CaaS
Limited customization of features
Total dependency on the platform's capabilities
Subscription costs can pile up as you add more features and users
Can fall short on expected messaging QoS
Usually no backend third-party integrations
Restricted to chat
TL;DR: This option is great if you just want to add live chat to a website or app, and don't plan on extra features or expanding to other realtime use cases, like multiplayer collaboration or live broadcasting.
Use a Platform-as-a-Service (PaaS)
One of the simplest and most cost-effective approaches to delivering live chat is using a realtime PaaS. This option offers pre-built, customizable modules and SDKs for building live chat systems, making it easier and faster to go to market. Popular PaaS include Firebase, GetStream, and Ably.
Most PaaS, like Ably, offer a managed infrastructure layer and fully manage the technical expertise and effort to set up and maintain the underlying realtime architecture for your live chat.
Pros of using a PaaS
Fully-managed realtime infrastructure for chat and potentially other realtime use cases
Quicker time to market with comprehensive chat features
Flexibility and control to easily connect with other services in your stack, such as databases, or stream processing solutions like Kafka.
Built-in security and compliance
Known guarantees for performance, availability, and data integrity
SDKs targeting major platforms and devices
Better visibility into costs
Cons of using a PaaS
Requires a lot of upfront research to pick the right PaaS
Finding a PaaS with all the right product features, third-party integrations, security, support, etc. for your specific use case can be difficult
Vendor lock-in, unless the PaaS offers SDKs for different languages and platforms, as well as integrations with other protocols and third-party services
TL;DR: If your priority is to launch a secure, production-ready chat that you can connect with both frontend and backend services - and scale without delays or costly development and maintenance - use a PaaS.
Get started with live chat from Ably
Speaking of PaaS, our engineers know how difficult it is to build and maintain a realtime infrastructure, so they developed Ably as a flexible PaaS that can deliver complete chat experiences and integrate with any part of your stack.
With Ably in your corner, you can:
Deliver robust chat experiences, faster: With a suite of realtime APIs, and SDKs for the most popular languages and frameworks, our out-of-the-box functionality helps you build realtime chat for web and mobile 3x faster.
Upgrade your chat with flexible features: Develop your chat your way using our selection of rich chat capabilities, including Pub/Sub channels, emoji reactions, push notifications, authentication, presence indicators, and more.
Ensure an uninterrupted user experience: Guaranteed message ordering and delivery means your users get the right messages at the right time. That means no missed or duplicated messages, even after a disconnection.
Maintain reliability at scale: A guaranteed 99.999% uptime SLA and global edge network means you can count on Ably's fault-tolerant and highly elastic infrastructure for predictable, low latency data delivery—at any scale.
Reduce the total cost of ownership: With flexible building blocks, managed integrations, and built-in security and compliance, your team can skip the cost and complexity of building and maintaining realtime functionality, and instead focus on higher-value product development.
Sign up for free to try Ably for yourself and see why the likes of HubSpot trust our platform with their realtime infrastructure.