The past few years—accelerated by the pandemic—have seen people move more of their work and personal lives online. There's a huge growth in teams working remotely, either on a full or part-time basis. And many companies have embraced the remote-first model - offering remote-first or hybrid positions as standard.
However this shift to remote, online-first interaction brings challenges. For remote workers, one of the biggest impacts has been in the way that they work together. Collaborative activities that used to take place in-person are now undertaken remotely, facilitated by a mix of online tools. But is there a better way?
This article delves into the growing importance of realtime multiplayer collaboration in the remote work era. We will explore how products with multiplayer collaboration features better engage end users, boosting usage, retention and growth - and how you can create market disruptive, collaborative features, in just a few lines of code with Ably.
---
TL;DR
Ably is developing a Collaborative Spaces SDK to aid the creation of collaboration features in team-centric apps including live avatar stacks, live cursors, user location features and more, helping a variety of businesses quickly respond to:
The rise of remote work, which has led to a surge in teams needing to collaborate online. Businesses have adopted a variety of tools to facilitate this, but unfortunately the use of multiple tools has led to a reduction in productivity due to context switching.
The growing popularity of realtime multiplayer collaboration features, designed to help remote teams to work together synchronously on the same digital artefact.
The large number of B2B SaaS companies that aspire to offer collaborative multiplayer features, but lack the expertise or resources to deliver them.
---
The varying degrees of collaboration
Collaboration comes in many forms. At the very least, being able to communicate with each other in realtime, via text, audio or video allows people to stay connected. Sharing a screen on a call, or sharing documents and screenshots via existing communication tools, enables shared context for co-workers.
However, the growing number of applications and tools adopted by businesses designed to aid remote working and productivity, are actually having the reverse impact. Needing to constantly be on calls and use a combination of tools and platforms for each atomic unit of collaboration leads to a lot of context switching, reduced individual focus time, application overload, cognitive fatigue and an overall drop in productivity at the workplace. There are also the social and emotional aspects to consider, with teams desiring a greater sense of 'working as a team' and having a shared experience, as recently highlighted by the BBC.
The need for 'in-application' realtime multiplayer collaboration capabilities
To solve the challenges associated with remote collaboration, companies started bringing 'multiplayer-as-a-product' solutions to market. Some were 'standalone' collaboration apps, like Miro, where team ideation and brainstorming was the central focus. Whilst others had a dual focus, e.g. Figma who from the start planned to create a graphic design tool that was collaborative.
Such applications enable teams to work on the same artefact, at the same time, without needing to switch to other tools - increasing efficiency. At the very least, this means all the participants have a synchronised view i.e. all the changes are synced in realtime. In some cases users are also able to see a live view of other participants - their live location within the artefact to suggest what exactly they are working on at the moment, along with the actual updates they are making.
For example, when creating a presentation with a colleague on Mentimeter, you can see who's online as part of the avatar stack, you can see which slide or which component each user is working on and you can see the changes they are making, i.e. if they've updated the title to be shorter, added a comment, etc.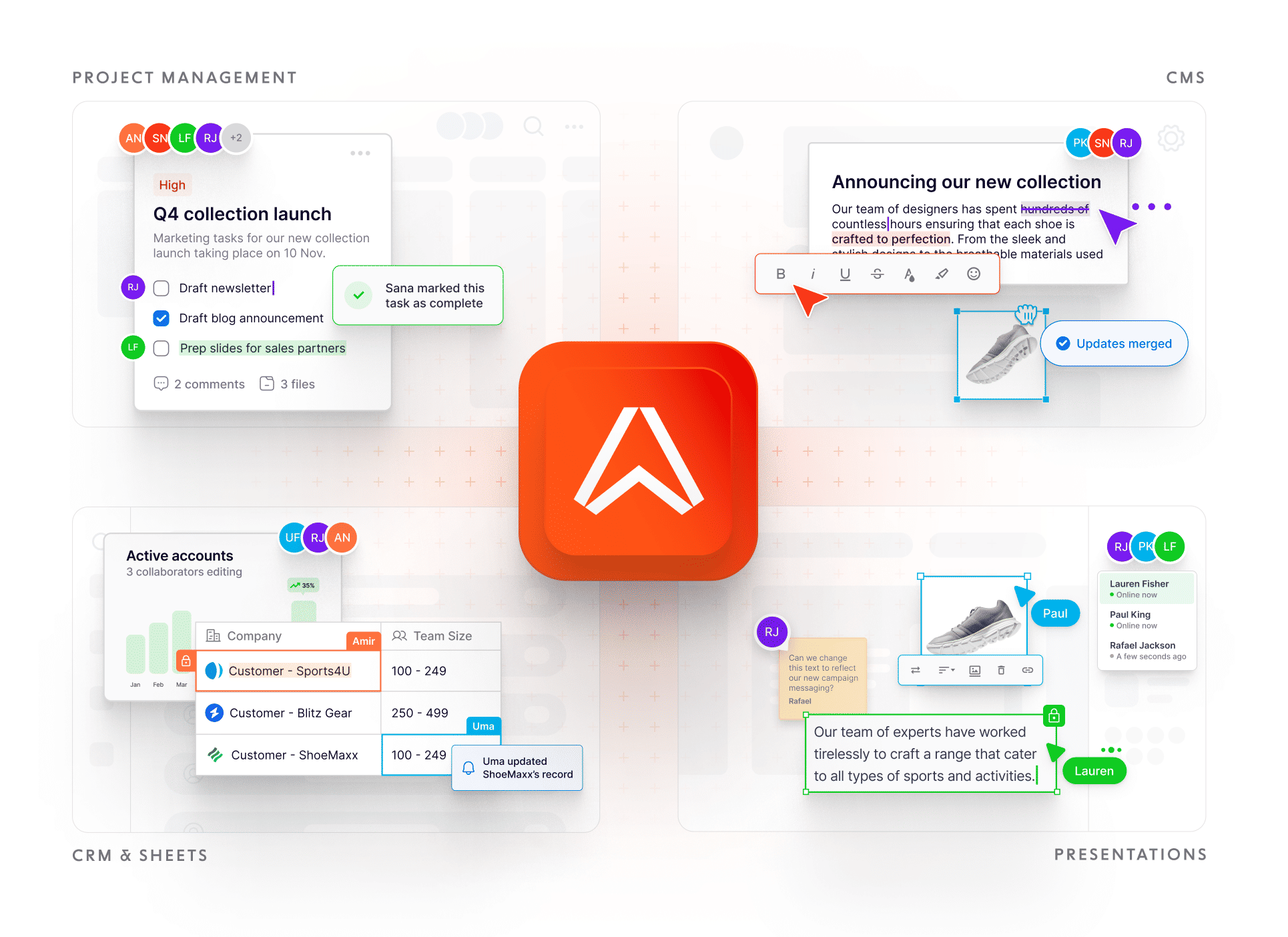 Realtime collaboration is disrupting multiple markets
As exposure to multiplayer collaborative experiences increases, there is a corresponding shift in end user expectations for all applications to do a better job of facilitating realtime collaboration. Similarly, with a big focus on boosting workplace productivity, businesses are looking to adopt tools that support better remote collaboration, and reduce 'context switching' overheads.
The combination of changing needs and expectations, is why you can see examples of products with multiplayer collaboration features across a growing number of verticals including:Task management, CMS, Presentations, CRM, Developer tools, Spreadsheets, Whiteboard, Content creation, and Video editing.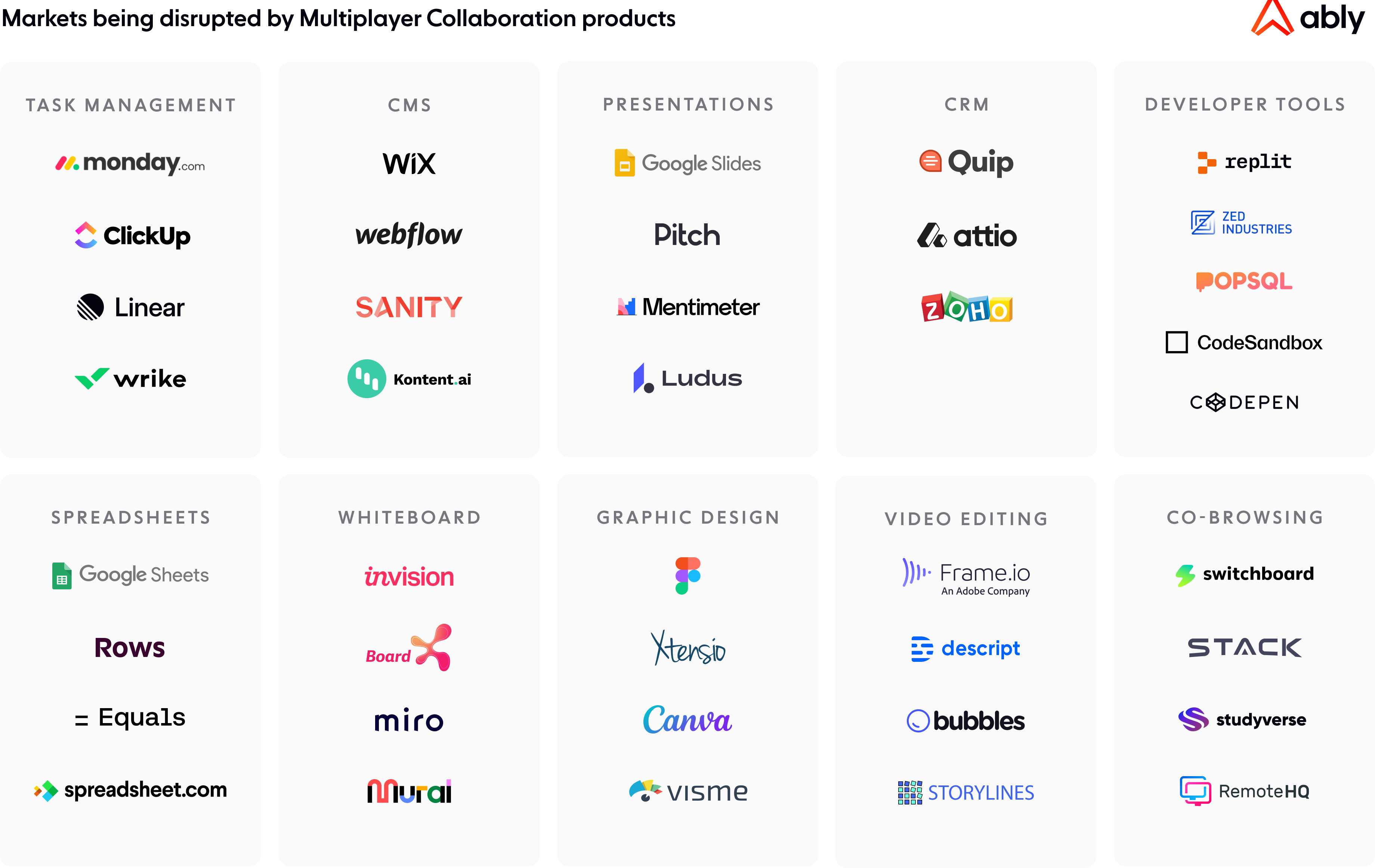 Products that fail to facilitate collaboration are (or soon will be) perceived as lacking compared to alternatives. And by not addressing the 'context switching' issue, single player solutions force users on and off their platform - the result? Usage plateaus, growth slows and the risk of losing customers to new entrants increases. There are plenty of comments in forums and across social media around "Why can't X be more like Y" e.g. "Why can't other apps get real-time co-authoring right like Google Docs?"
Conversely, products that successfully introduce collaborative features are by their nature more sticky. And by 'successfully' we mean that the features enhance the user experience, as opposed to being a gimmick that will annoy or further distract. Product engagement is further boosted, and when colleagues invite others to join them in a virtual workspace that's retention, increased usage and growth in one. There just isn't the same motivation with 'single user' or async tools.
What does this mean for applications that weren't built for multiplayer collaboration from the start?
With growing competitive pressure, more and more B2B SaaS companies are looking to offer collaborative multiplayer features. However, they struggle to bring these to market due to a lack of in-house expertise, financial resources and/or time - to the point where they find the leap just about impossible. It's the same challenge whether you are looking to redesign a single user application to support multiplayer collaboration or build from scratch. Just read about Figma's approach to multiplayer and the Google Docs architecture and you get a sense of how infra-heavy and demanding the build will be. There is so much to consider, just to get it working, let alone do it well.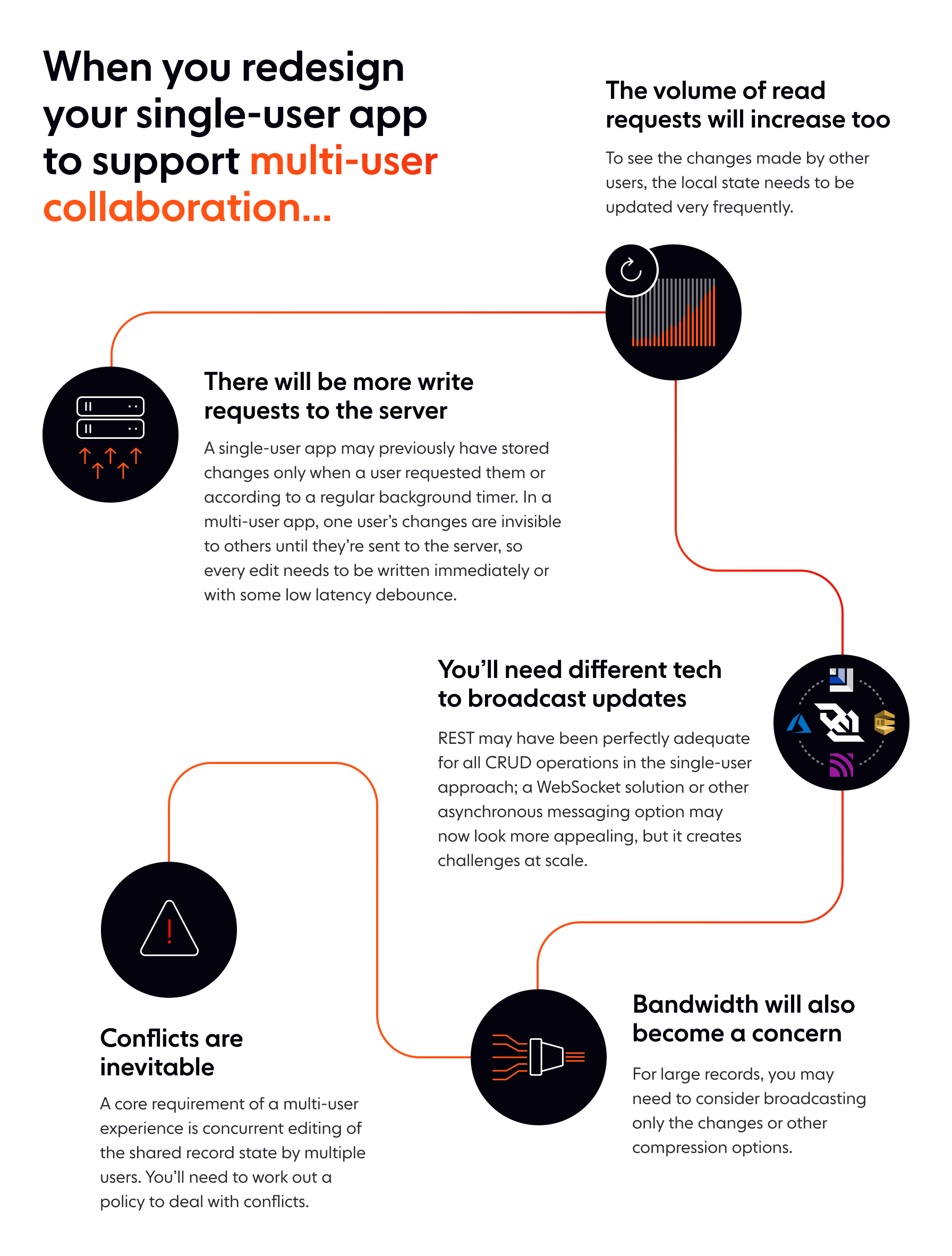 Build realtime collaborative experiences...not the infrastructure to power them.
Given how difficult and costly it is to build and maintain a realtime infrastructure, we've invested heavily in building out our platform, to ensure customers can get to-market quickly and save on engineering resources and ongoing running costs. By avoiding a significant upfront investment we have helped customers like Mentimeter, Webflow and Discovery Education get multiplayer collaboration on the roadmap and implemented in weeks. Furthermore, not only do they have the opportunity to integrate a host of multiplayer features, but to also a range of other complementary realtime experiences - chat, reactions, annotations, typing indicators, push notifications, dashboards and more
And now, we are working to make it even easier to add realtime collaboration features…
Discover Ably Spaces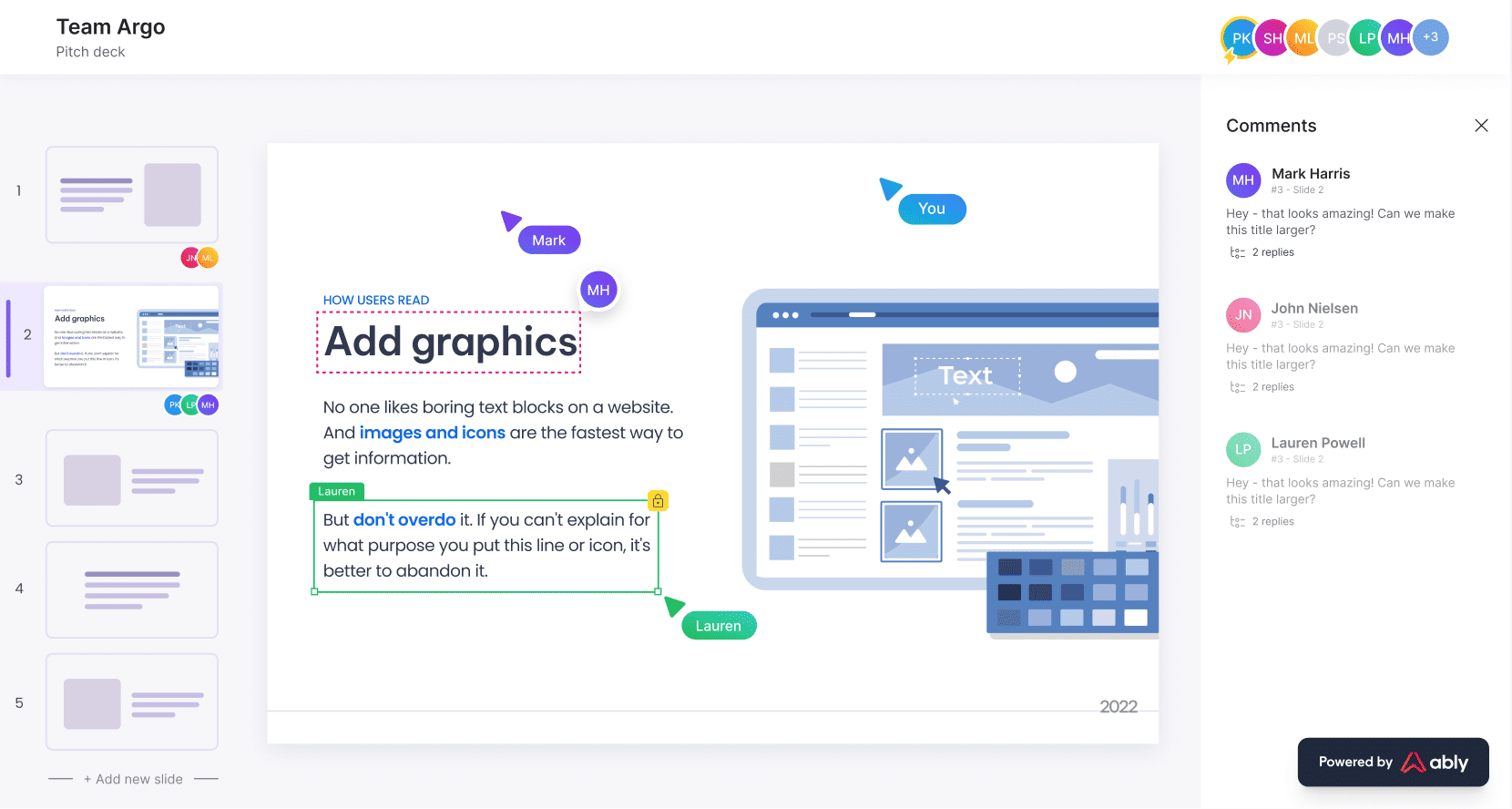 To overcome the challenges faced by companies introducing collaborative features, we are excited to announce a new set of capabilities to make it even easier to make 'single user' applications 'multiplayer'. You can now create multiplayer 'spaces' and add a host of features using purpose-built APIs - designed to enhance the collaborative experience! Visit our Spaces product page to learn more about the features and get started with Spaces.