Customer experience is changing. Research from Merkle shows that customer loyalty increasingly relies on an emotional connection, with frictionless interactions a core requirement. This means that the days of strictly regimented, one-off customer contacts are over. Instead, customers today expect an ongoing relationship with the brands they trust.
Done well, live chat can be the ideal way to provide that ongoing connection. Whether you're providing customer service, connecting people in a two sided marketplace, or building a community, live chat suits a world where many people need to divide their attention among competing demands.
But not every live chat implementation meets the expectations set by the likes of WhatsApp and iMessage. So, what functionality do you need in order to deliver modern live chat? Here we cover the 15 essential live chat features, along with an overview of how you might implement your live chat service.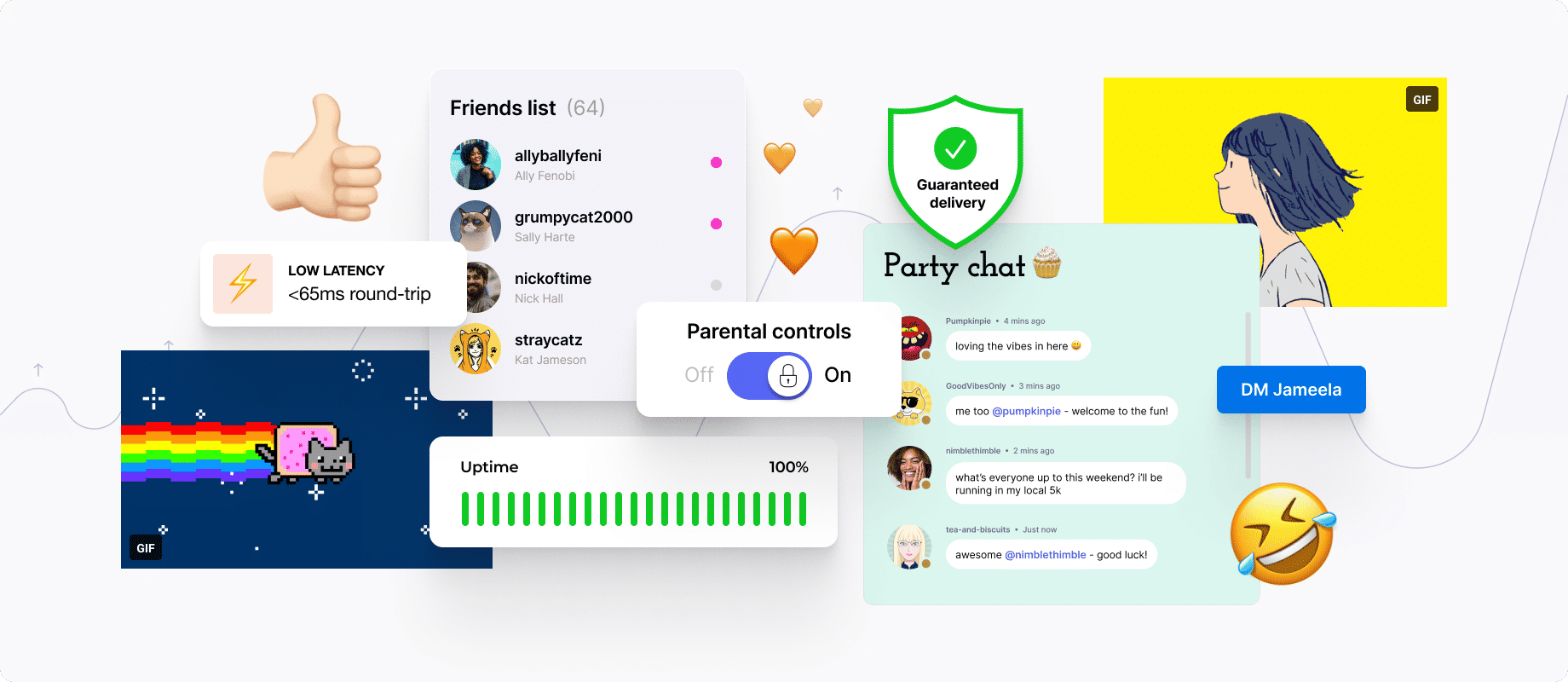 15 features to make your live chat experience competitive
1. Low latency message sending and receiving
With the increasing number of online interactions, expectations surrounding digital experiences have grown - making delivering messages in realtime, with low latency, a priority for live chat experiences. Whether you're building live chat for customer service, customer engagement, or to supplement customer experiences, the quality and capacity of your infrastructure will dictate whether you can deliver on the expectation of low latency message delivery.
2. Automatic reconnection
More than 70% of people expect natural, conversational live chat experiences. Noticeable disconnections and, worse still, having to reconnect manually, pull people out of the live chat experience and lead to lower customer satisfaction. Whilst it's not always possible to hide the fact that the connection is interrupted, you should always attempt to reconnect where possible. And if something gets in the way of automatic reconnection, the next best step is to provide a URL or button for manual reconnection. This can be particularly painful for customer service live chat experiences, where disconnection can impact customer satisfaction and the efficiency of customer service agents.
READ MORE: Learn how Ably manages connection state recovery
3. Channels and private messages
Whether you enable direct private messages between users or channels with multiple users will depend on your live chat use case. Often, you'll need a mix both as they serve different needs. For example, in-game chat for video games often has both private messaging and channels. Players working together on a team will hang out in a channel together, where they can chat without the risk of their enemies overhearing. Whereas two friends who just want to use live chat to hang out and exchange jokes might use private messaging.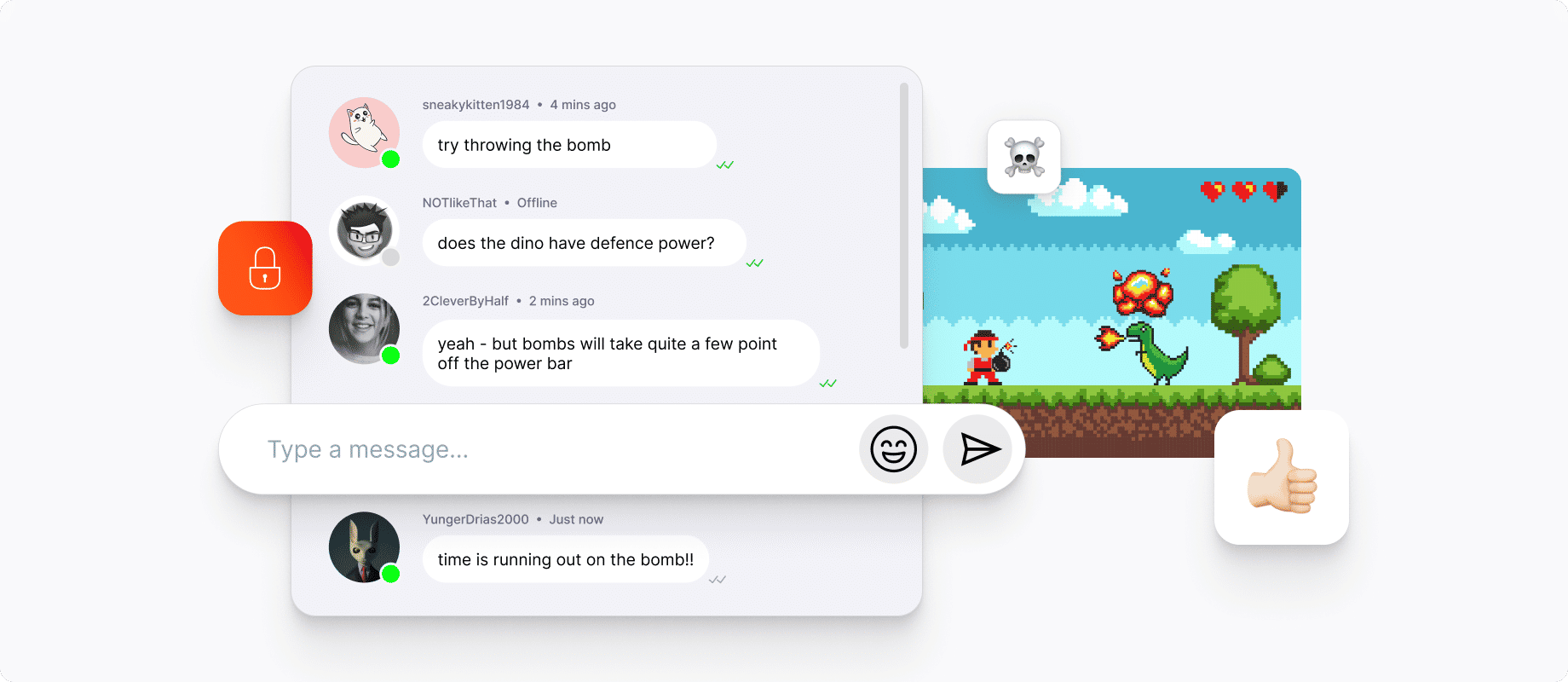 4. Online status
At its most basic, online status shows whether each person is currently connected. For a richer experience, users can communicate their precise status such as 'Busy' or 'Back soon'. Such status indicators are a key feature of live chat, since it lets individuals looking to start a chat know whether or not the recipient is available. In the context of customer service, this helps customers to know if support is available via live chat. In the context of live chat apps such as Slack, it lets users know whether they can expect to hear back from the message recipient soon - or if they might be waiting for a while.
READ MORE: Learn how Ably uses presence to show who is online, where they are, and what they are doing
5. Typing indicators
Like online status, typing indicators provide a visual replacement for the social cues we get when chatting face to face. A small, usually animated, icon shows that the other party in a chat is currently formulating their response.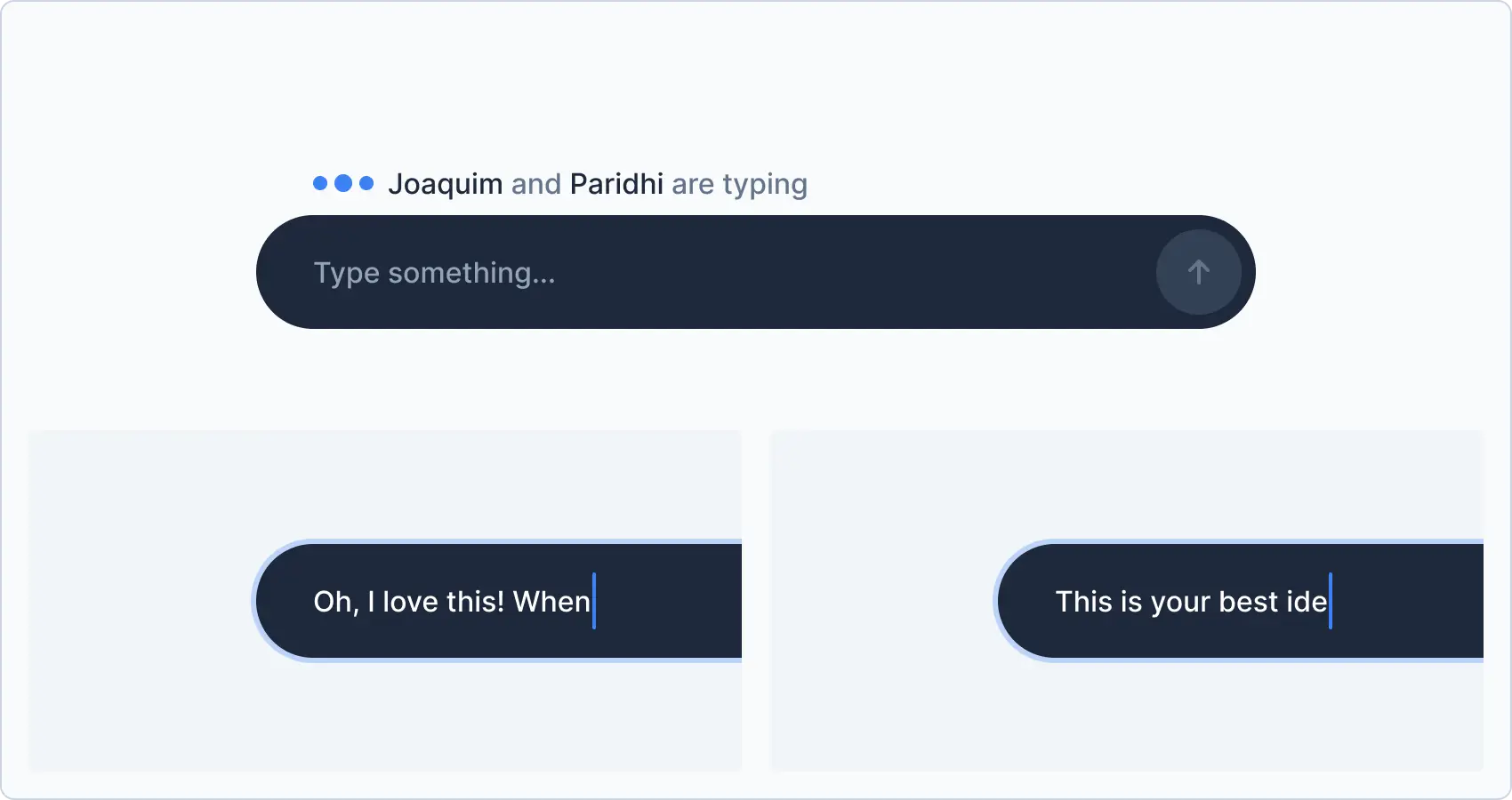 According to HubSpot, 82% of consumers expect an immediate response when they have a marketing or sales question and that goes to 90% for customer support queries. But even the fastest typists will struggle to respond immediately! A typing indicator lets customers know that someone is handling their query - helping to improve customer satisfaction, and give customer service reps the time to form an appropriate response.
6. Read receipts
Your live chat users will bring with them expectations set by tools such as WhatsApp, Facebook Messenger, and Viber. Those services have made read receipts a core part of the live chat experience, allowing people to make a decision about whether to follow up or wait for a response.

Although the famous examples of read receipts are in social messaging contexts, they are also helpful in customer service settings, and for team chats where you want to know if a customer service agent, or team member, has received and/or read your message.
7. Reactions
Using emojis and GIFs to react to someone else's message is now commonplace on live chat apps. Smileys, or emoticons, used punctuation symbols in the early days of email to provide a layer of emotional context. Today, their modern equivalents - known as emoji reactions (or simply reactions) - are a core part of how people communicate online, adding back some of the depth and color that's missing from plain old text.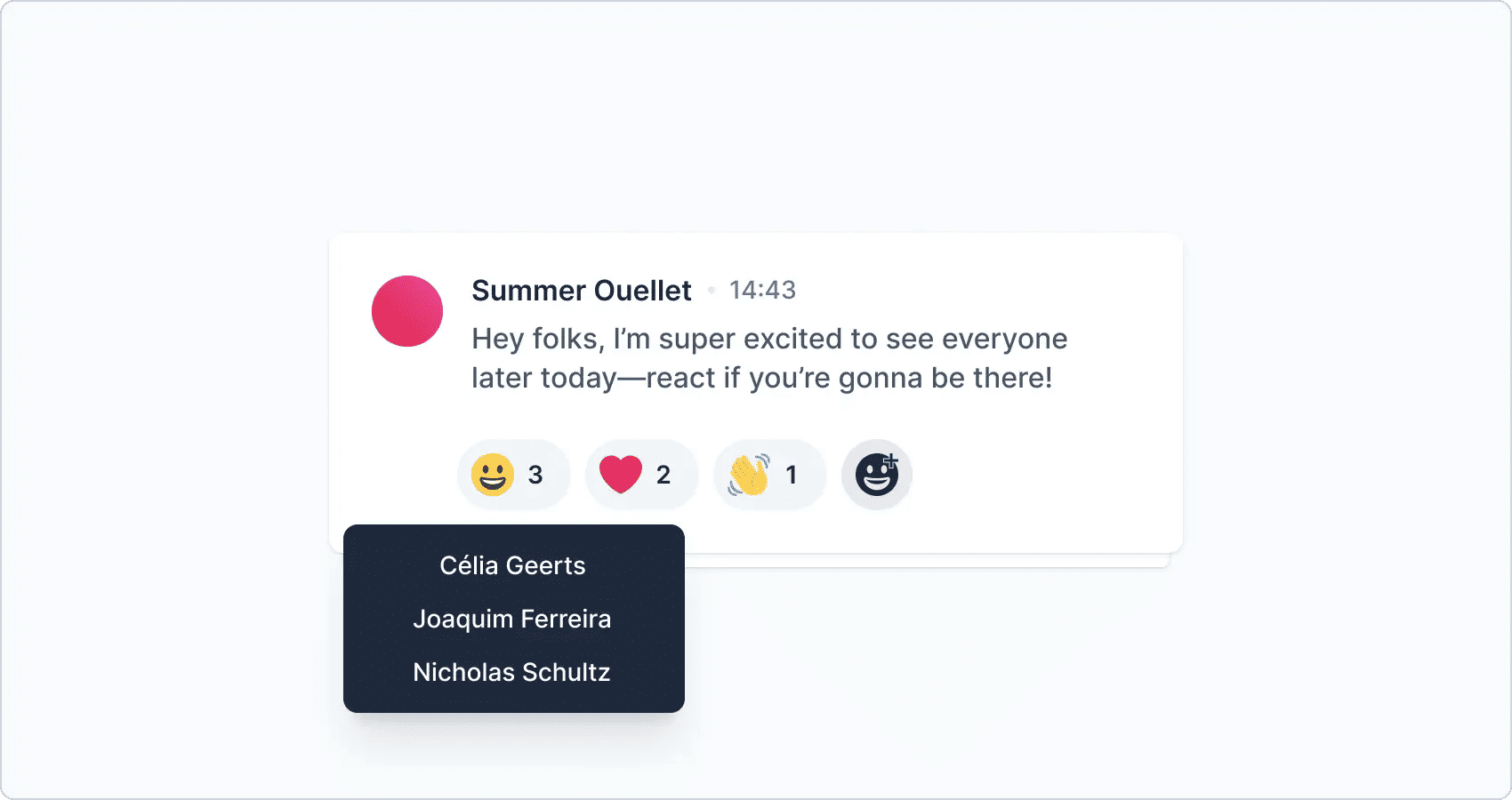 8. File and image sharing
Live chat is now central to the way that teams work together within companies, to how communities of volunteers communicate, and to the customer experience provided by companies large and small. Having largely taken the place of email, live chat needs to handle more than just text, emojis, and GIFs - making file and image sharing a core live chat feature.
9. Targeted messages
Targeted messages let live chat users alert other users in a channel or group chat setting - usually by @ing their username. Large channels can get busy and it's not possible for every member to keep an eye on every message. With targeted messages, individuals can work on other tasks safe in the knowledge that other users can alert them to anything important.
10. Push notifications
In an age of SMS fatigue, people still care about push notifications. In the US, 60% of smartphone users opt-in to receive push notifications from apps. This makes push notifications a great way for live chat users to engage in conversations after they have left the live chat environment, so that they can go about their day without having to check for updates. However, it's important to not over use notifications and to give live chat users the option to decide what they receive notifications for (e.g. they could just receive them for targeted messages).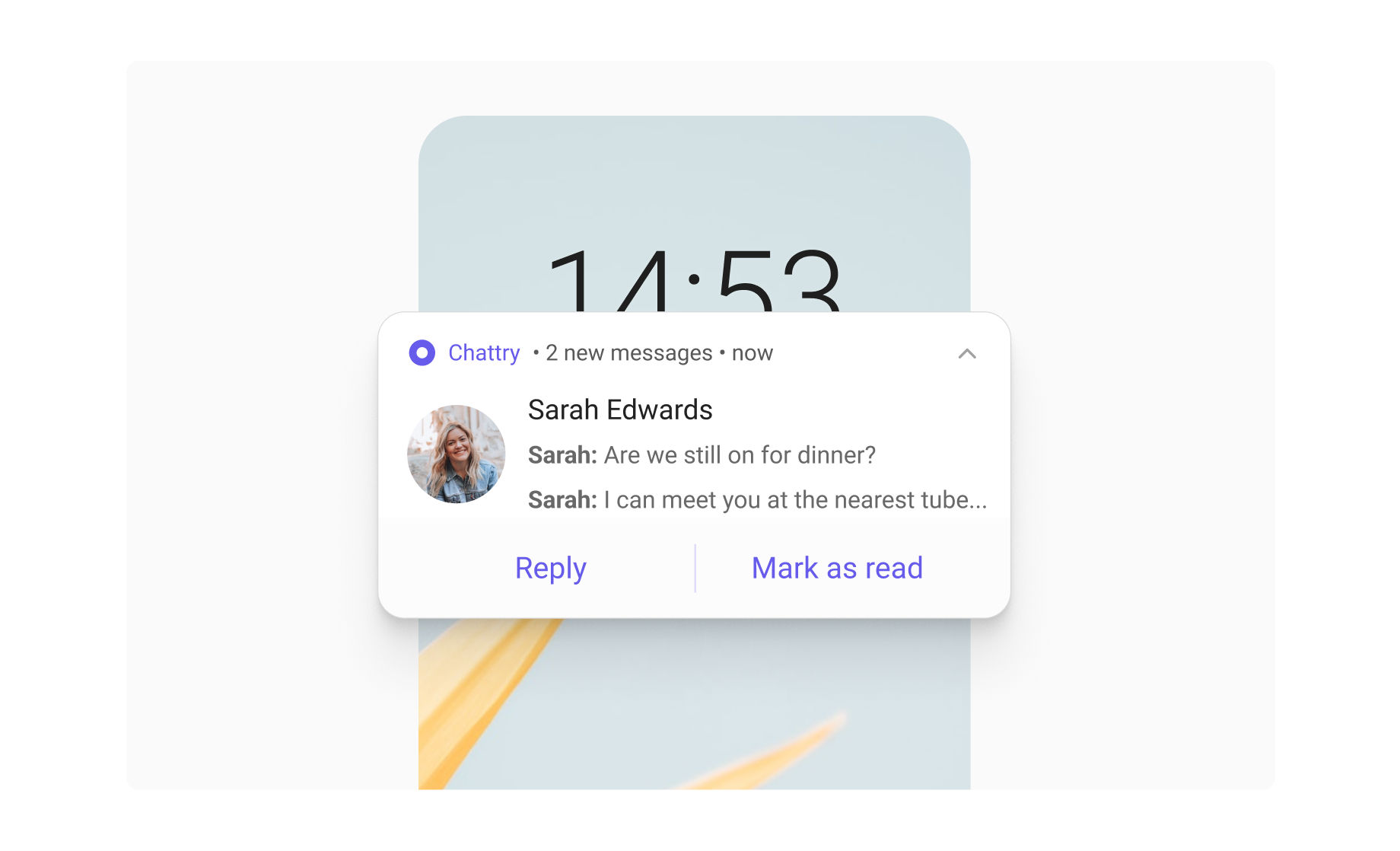 For customer service live chat, push notifications let customers continue with their day knowing their phone or browser will alert them when there's a reply. Similarly, in the context of social messaging between friends, push notifications allow each person to come back to the conversation when a new message has been received. This becomes even more useful in a group chat setting, since it lets message recipients decide when to re-engage without having to keep the chat app open.
11. Authentication
Aside from rare anonymous chat platforms, participants in most live chat services need to be identifiable. Whether it's username and password, or integration with an existing SSO system, you'll need to consider how and where to implement authentication in your live chat. Authentication isn't just about locking out potentially bad actors such as spammers and scammers. It also enables many of the other features we're discussing here that enrich the live chat experience.
For example, the push notifications and targeted messages that make workplace chat so useful are possible only if the live chat platform can identify each person. In always-on live chats for online games, such as EVE Online, authentication allows the game's chat environment to keep tabs on what context a player has missed while they're away and to give them access to the relevant chat history. In a customer service context, authentication enables companies to tie live chat to other systems, such as CRM records.
12. Roles and permissions
Alongside other benefits, authentication enables you to assign different levels of access to certain users. Those permissions–such as the ability to moderate another user's chat or to be labeled as an official staff member, for example–are usually gathered together under the umbrella of a particular role, such as an administrator. This is particularly useful in the context of customer service live chat, where it is beneficial to have the option to set different levels of access and control based on a team member's position and seniority.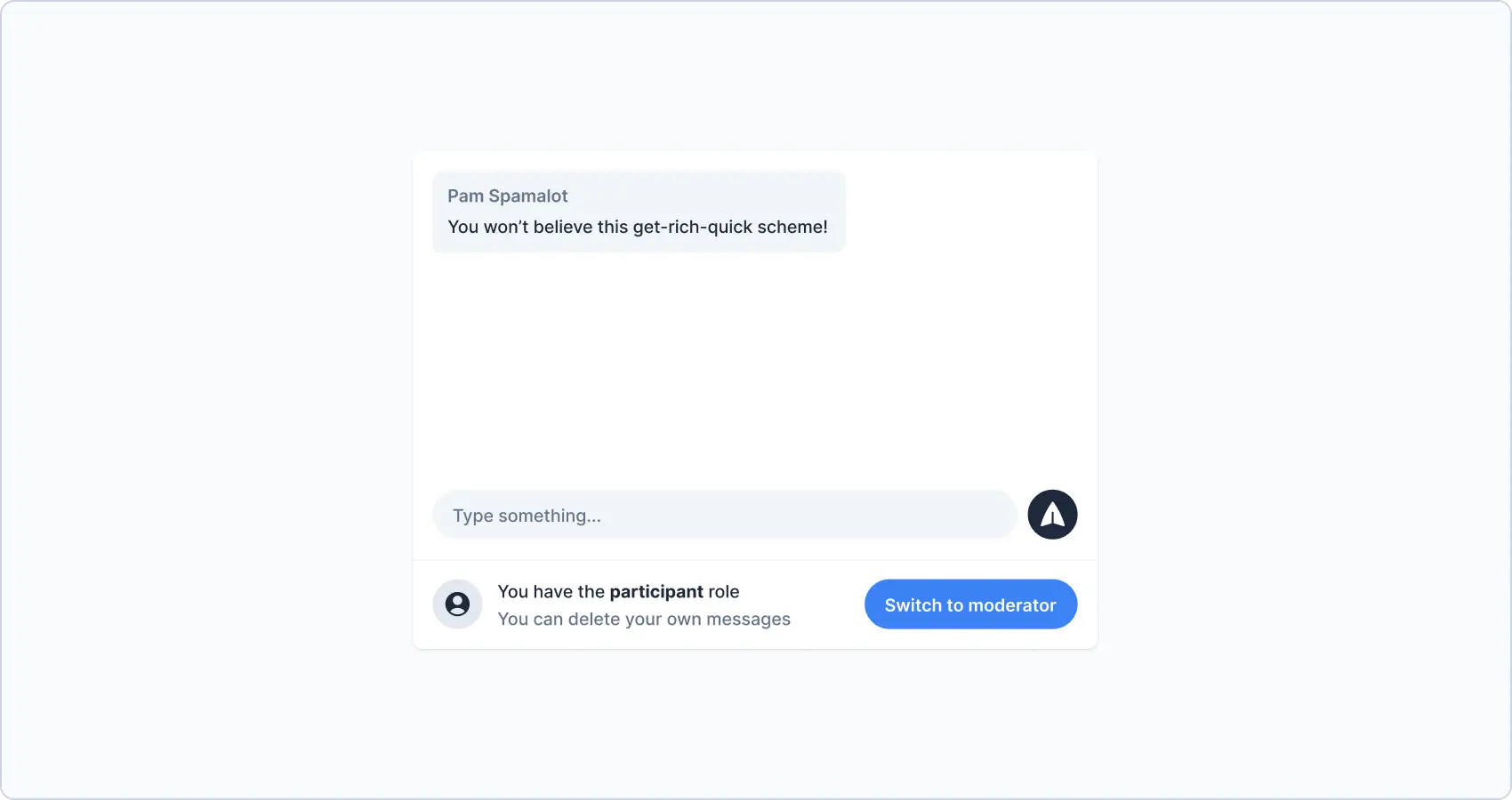 13. Message history and storage
Unlike email, live chat experiences can often seem to be short-lived. However, many live chat platforms store conversations and provide searchable access to those histories. For casual conversations, message history and storage can offer a fun way to relive a particular gaming campaign, or to look back at shared memories. In a commercial context, storing message history is often a legal requirement. Creating a record of customer interactions can help to clarify misunderstanding, and provide training material for staff.
READ MORE: Learn how you can access message history with Ably
14. Message editing and deletion
Not every message comes out right first time. That makes editing or deleting messages a core requirement for most live chat solutions. Without the ability to fix a typo or delete an unhelpful message, live chat conversations become messy and harder to navigate as users are forced to re-type what their message should have been, instead of editing it. This is particularly helpful for workplace oriented live chat experiences, where you want to give users the option to correct typos or mistakes in messages that could impact their professional standing.
15. Moderation
Moderation is a must have feature for any live chat platform that's open to the public. It can be either proactive - where the aim is to prevent offensive/ unwanted materials from reaching users - or retrospective - where AI or manual reviews are used to delete messages and suspend/ block users. Moderation is particularly important for live chat use cases that bring together a large volume and diverse range of users - such as in-game chat. Without moderation in-place, the live chat and overall product experience will be severely impacted.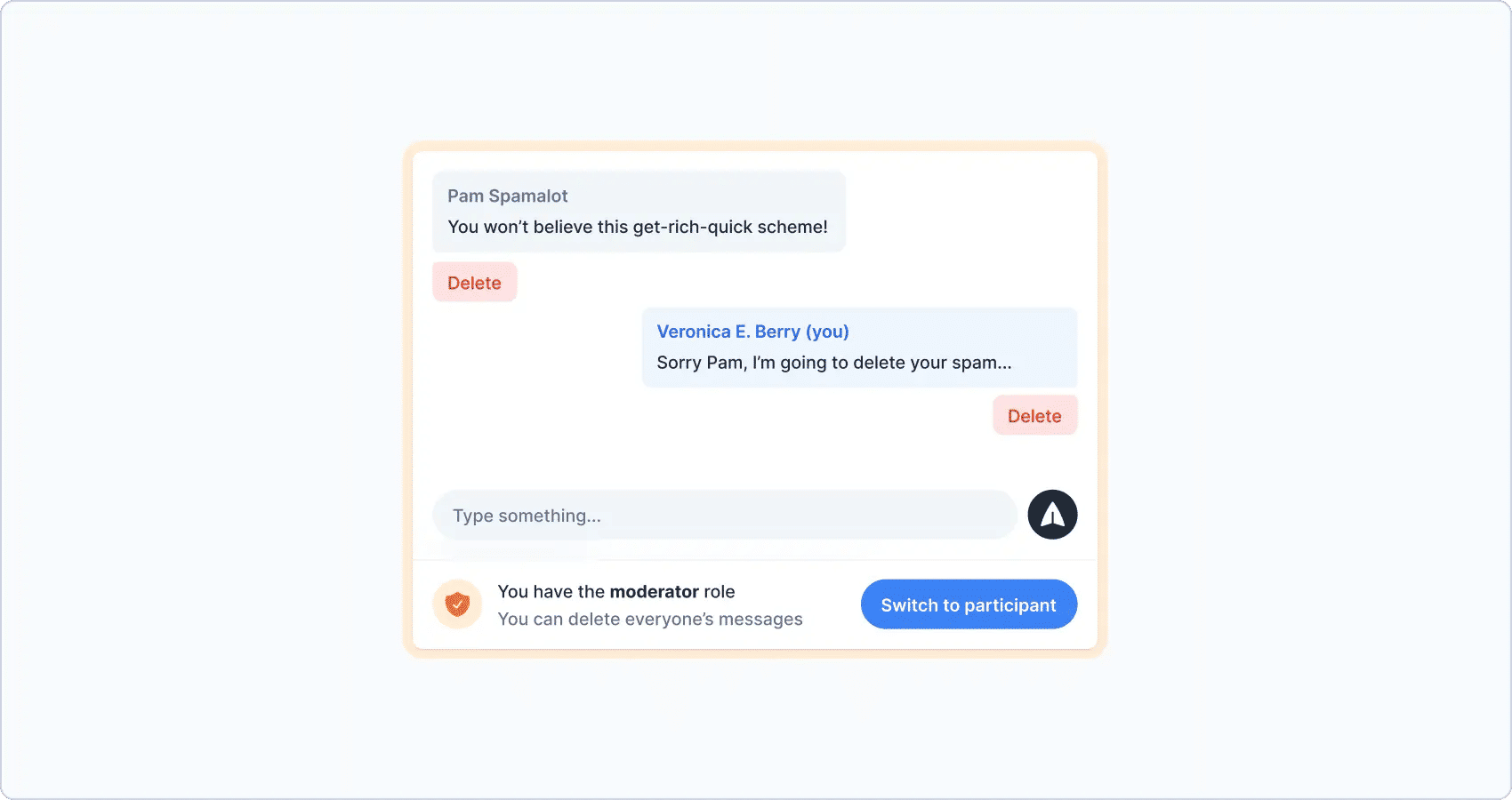 See these features in action: 11 examples of companies using live chat in creative ways
How to deliver a feature-rich chat app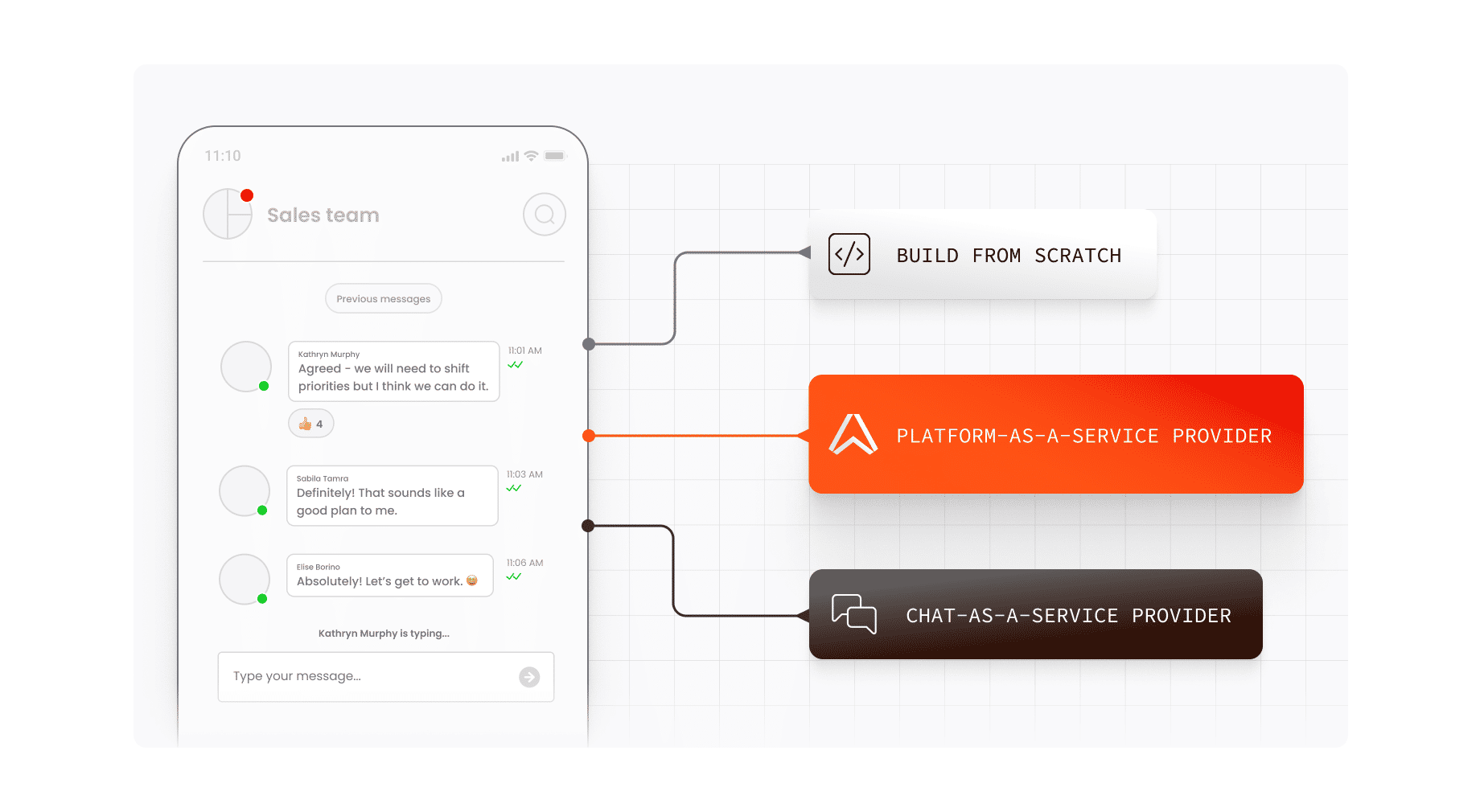 Building a feature-rich chat app takes engineering skill and the underlying infrastructure to meet user expectations. The precise steps you take to deliver it, though, depend on your priorities and the resources available.
Here are three options for you to consider.
Build from scratch
Getting a solution that perfectly matches your needs can seem like a great reason to build your own live chat from scratch. But for many teams who do just that, the results often fail to live up to expectations.
Let's look at what's involved. First, there's the software engineering side. What does it take to architect and develop the code necessary to run a dependable, scalable, and maintainable live chat tool?
Selecting your tech stack will decide much of what comes next. Technologies such as WebSockets, XMPP, and WebRTC each have their own peculiarities, as well as advantages and disadvantages. Whichever you choose, you'll need to find engineers with expertise in using them to build production systems.
Once you have a working solution, arguably the hardest part comes next. Specifying and managing the underlying infrastructure. Which database, storage, CDN, and other tooling will you choose? And do you have the capacity and in-house expertise to make sure they all run well together, even in the face of unexpected demand?
Use a Chat-as-a-Service provider
Alternatively, you might prefer to focus your engineering efforts on bringing your product's unique functionality to market. In that case, you could look at using a chat-as-a-service provider.
Chat-as-a-service is ideal if time to market is your priority. While you won't get the same flexibility as with a home grown solution, you'll be able to outsource the engineering both to create and maintain the chat service.
And there are other tradeoffs, not just feature flexibility. You'll need to be certain that the vendor's DevOps team shares your standards for reliability and that the product team has a vision for their roadmap that aligns with your product's needs.
Build your own solution using a Platform-as-a-Service provider
The middle route between these two is to use a platform-as-a-service (PaaS). Rather than buying-in wholesale chat functionality, in the case of a chat-as-a-service, or building everything from the ground up, a PaaS gives you feature flexibility while taking care of the hard engineering problems.Ably is one such PaaS provider and offers pre-built components that accelerate your chat development, without dictating the end user experience. With a 99.999% SLA guarantee, Ably also takes the pressure off your DevOps team by providing fully managed realtime infrastructure.
READ MORE: What it takes to build a realtime chat or messaging app
How to deliver a live chat app with Ably
Using Ably, you can ship and scale rich live chat experiences in less time than it takes to build in-house and with greater flexibility than using a chat-as-a-service solution.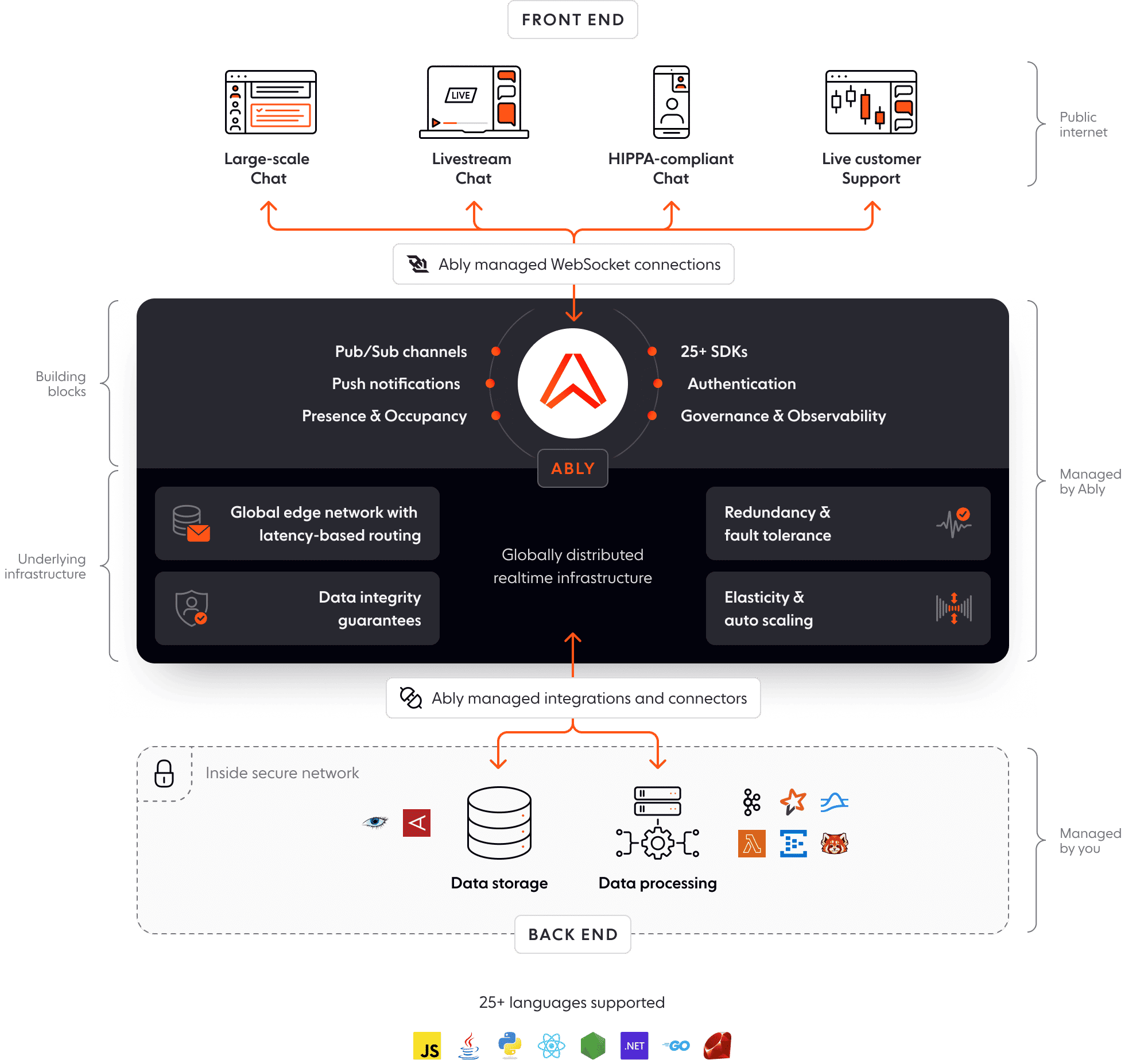 Ably's redundant, fault tolerant edge network spans the globe. By routing chat messages and other data over the lowest latency route available, you chatters get a lag-free experience. And if something does go wrong, Ably reroutes around it seamlessly, while guaranteeing your data integrity.
For your software development team, Ably provides libraries for every popular development language and framework. Just as importantly, Ably can improve your time to market with pre-built components specifically designed for chat use cases.
Sign up for free to try Ably for yourself and see why the likes of HubSpot, Toyota, and BlueJeans trust our platform with their realtime infrastructure.