At the beginning of 2021, Ably had 35 employees in the UK and some pretty ambitious goals for the year ahead. By the summer, we'd raised our Series B funding and with that, came lots of new Ablyans and plans to grow the team rapidly. Just over one year later, we're up to over 130 employees in the UK, Europe, and the US.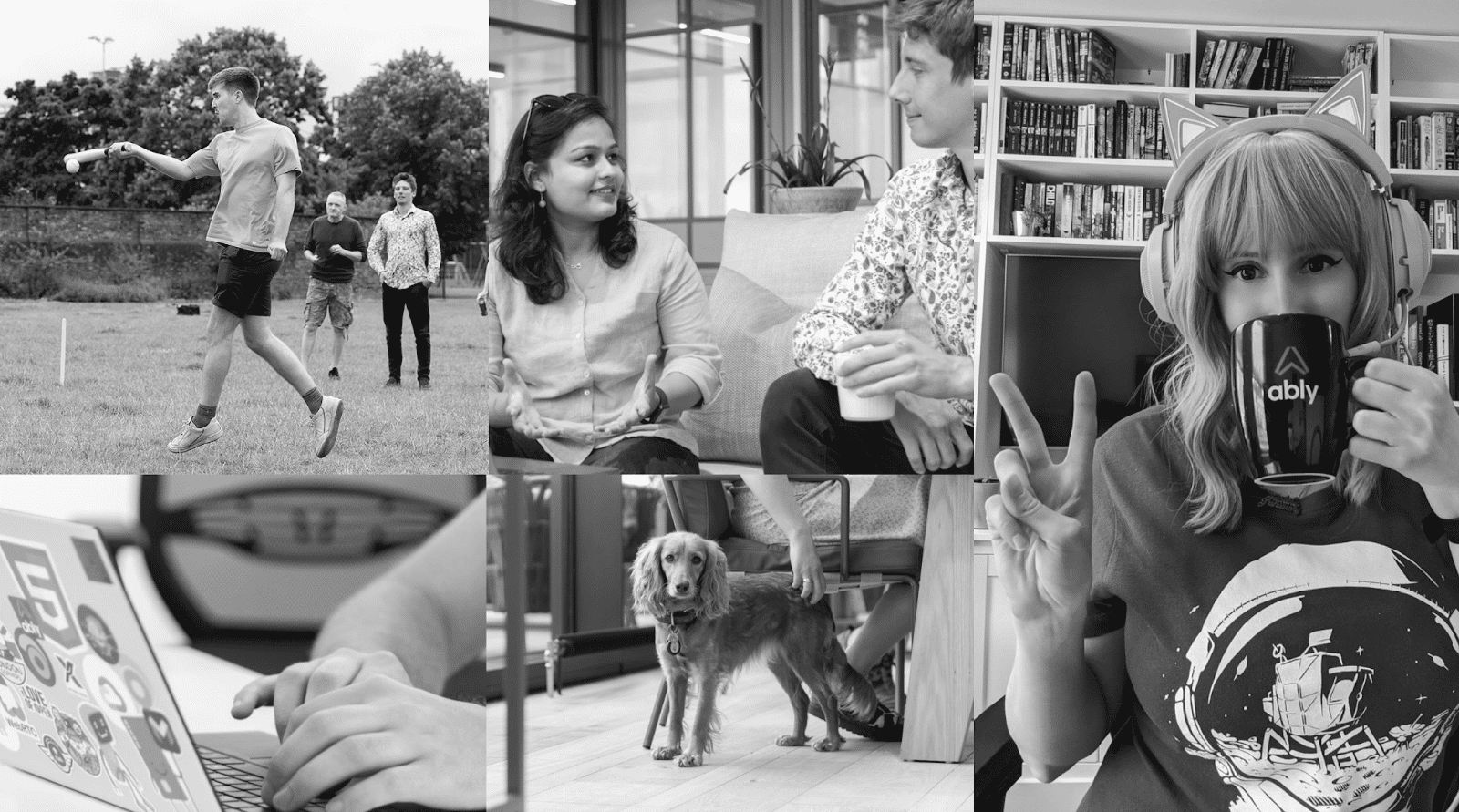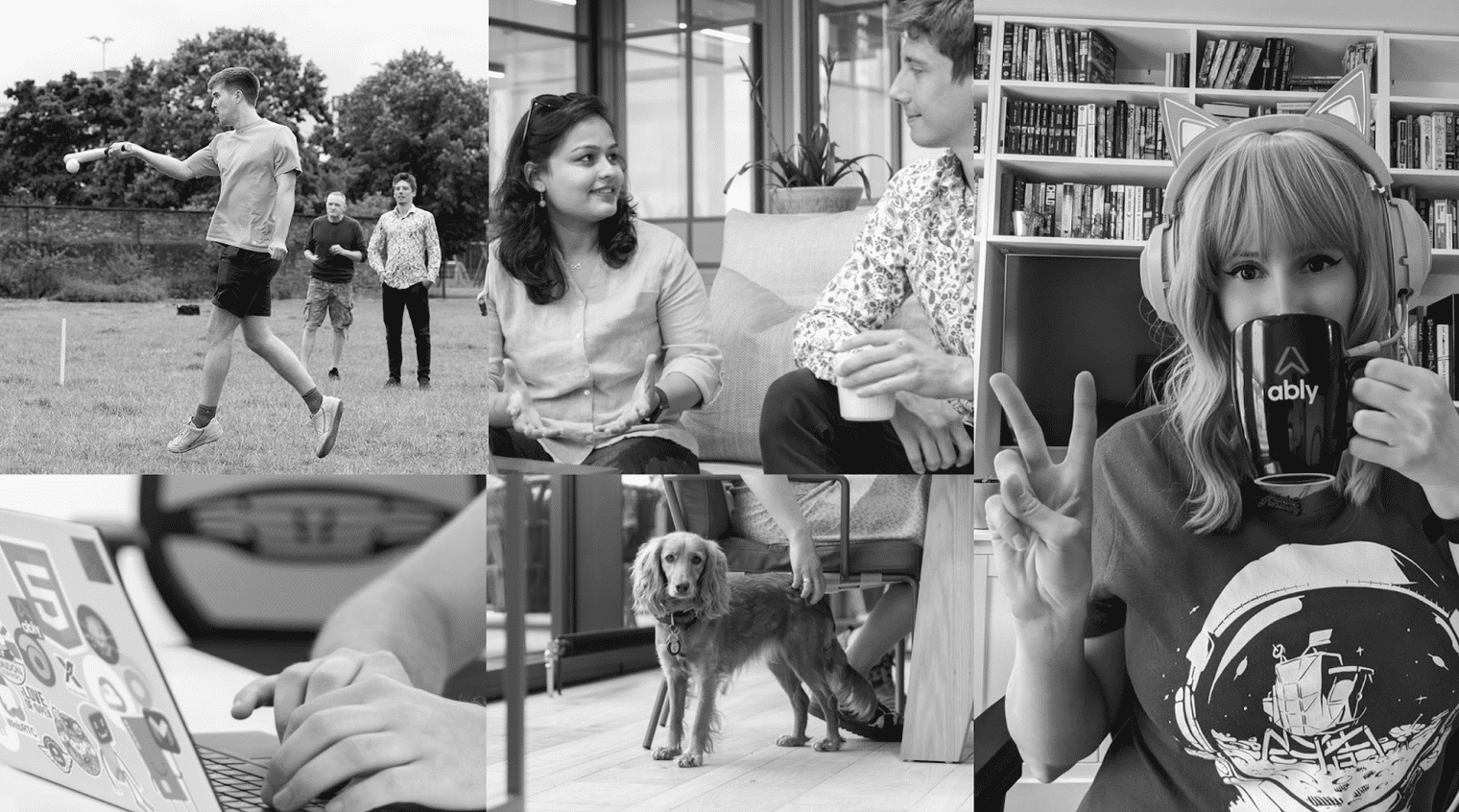 Our basic benefits (healthcare, statutory pension, 25 days holiday) were quite standard for a start-up of our size, but we needed to upgrade our offering to support existing Ablyans and attract new ones, in support of our open and inclusive culture. We'd made some strides to improve the benefits pre-Series-B by working with Juno and Sanctus to support employee wellbeing. We like Juno because they offer a huge range of products and services and even a payment card, so the flexibility meant there was something for everyone. Sanctus provides monthly coaching for Ablyans to support their mental health.

Arguably the most popular perk we introduced last year was a weekly individual budget for drinks and snacks for our company Need To Know virtual meeting every Friday (it really is a highlight of the week!).

After the funding round, we researched what benefits would be market-leading for Series B companies and beyond. We also asked Ablyans what they'd like to see as part of the package to support them and started to pull a proposal together that we felt was in line with our values. Ably has a broad demographic that continuously evolves as the business scales, so our proposal needed to appeal to each employee, since we recognize that each person is different and will want to be supported by Ably in different ways.  The angles we focused on were health & wellbeing and supporting Ablyans' futures.

Health & wellbeing

Without Ablyans, Ably couldn't exist. Our employees are at the heart of the organization and we want to do as much as possible to support our team to be happy and healthy. It has been a tough couple of years for everybody, and we wanted to make sure the proposal and total package provided more support here than ever before. We also believe that people do their best work when they feel supported, and have autonomy and flexibility, hence Ably moving to a remote-first company to support employee work/life balance.

Private medical insurance (PMI)

We already had a standard Axa Health policy, but we upgraded to a Medical History Disregarded policy to support folks with pre-existing conditions. This addition made the policy more inclusive and aligned with our value open for all. We also enabled Ablyans to add partners and children to the policy.

Cash plan

Like the PMI, we wanted to offer Ablyans more support with day-to-day health and medical costs. The cash plan we signed up with gives Ablyans the opportunity to expense a number of costs including those for dental care, optician, physiotherapy, health checks, and access to discounted gym memberships. The policy also covers kids for free.

27 days holiday & your birthday off!

Our holiday leave was previously 25 days, but we wanted to increase the allowance to encourage folks to take the downtime they need (and to have lots of time to eat cake on their birthday, or sometime in the month of their birthday!) Many tech start-ups are offering unlimited leave, which we looked into, but the results suggested that folks take less time off and feel guilty when they do, so we decided it wasn't the right option for Ably.


Cycle scheme and technology loans

We introduced these schemes to offer the opportunity to spread the costs of cycling and tech equipment (which can be expensive!) and save a little tax while doing so! We're remote-first and won't expect colleagues in Scotland to be cycling down to the London hub anytime soon, but having the option to get on your bike is great for health and wellbeing, so we hope many Ablyans will benefit from it in some way!

Supporting every Ablyan's future

We want Ablyans to learn and grow with us, and give longer-term security to employees and their families too. We're all on the journey together. We put a progression framework in place to help people learn and grow as Ably grows. The framework also supports our Open for All value as it enables consistent pay across the organization.

Pension

We'd been using a fairly standard statutory pension scheme, which when looking at the detail, you quickly realize isn't particularly supportive for Ablyans when thinking about their future! We decided to move Ablyans on to a salary sacrifice scheme that is based on the entire base salary, rather than being capped at a lower amount. Ably also increased contributions from 3% to match up to 5%.

Life assurance

Life assurance comes into effect if an employee passes away whilst working for Ably. As we grow, we felt that introducing this policy was the right thing to do to ensure Ablyan's families and loved ones are supported in the worst imaginable scenario.

Income protection

Similar to Life assurance, we wanted to ensure that Ablyans and their families were supported in the case that an employee is unwell for a prolonged period. This means that they can take the time they need to recover properly and be supported financially in the meantime for up to 5 years.

Financial Wellbeing Coach

We were super excited to announce our new pension scheme. But pensions are often confusing and not necessarily enough alone to provide for someone's future, so we wanted to equip Ablyans with the knowledge they needed to make decisions based on their own financial goals. We've teamed up with Octopus MoneyCoach to offer help and support on a range of financial planning topics.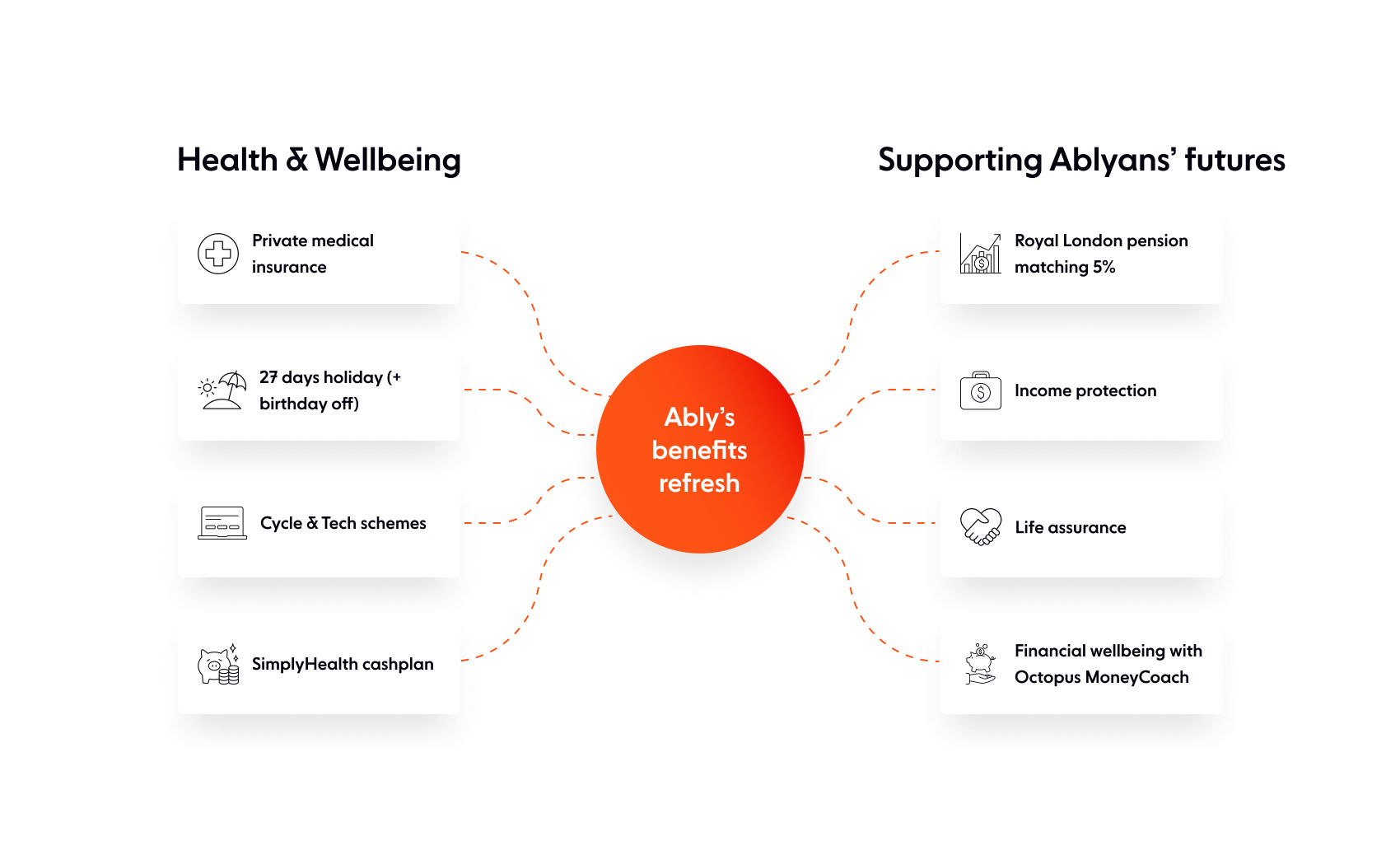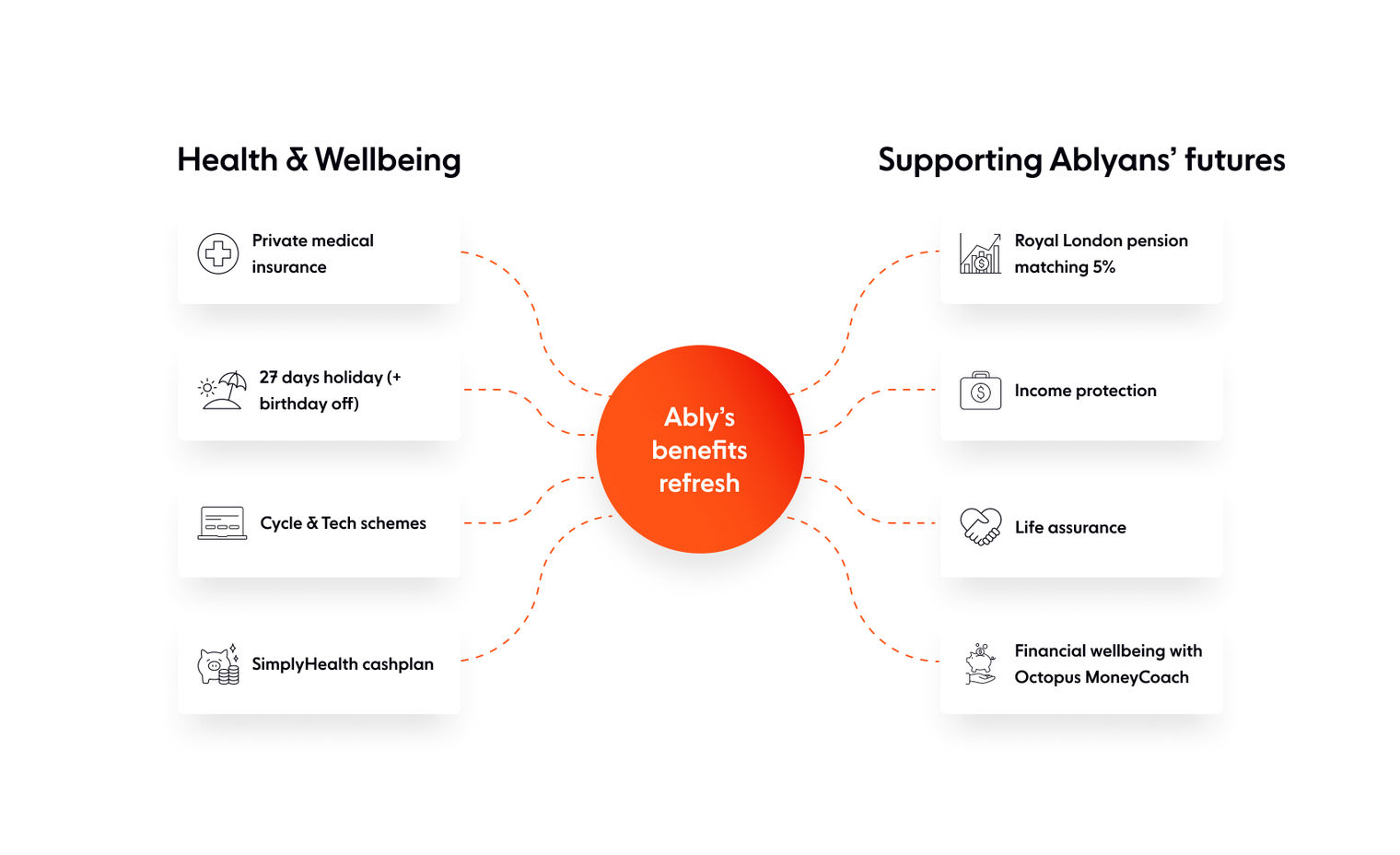 Other than what we've mentioned already, there are a few other perks & benefits from working at Ably:
£1000 yearly L&D budget (also a progression framework in place with salary reviews/promotion cycles twice per year)
£500 budget for new starters to spend on tech equipment, with a £150 top up each year
Share options for every Ablyan. Our share options calculator is aligned with our progression framework meaning it's consistent across the organization and further promotes our open for all culture.
Regular cakes and swag through the post (most recently for Ably's sixth birthday)
A fully-paid one-month sabbatical after five years with Ably, in addition to the yearly holiday allowance!
And a few extra fun things too: Ably social clubs and resource groups summits each quarter and a lovely London hub with the cutest dogs in London (not that we're biased!)

Keeping our values in mind throughout

Our values have guided the process of improving our benefits and policies at Ably, particularly open for all and technology needs humanity. Last year, we introduced our progression framework to ensure that everybody is paid fairly within Ably (and benchmarked against the market) and has the same opportunity to progress. We also provide each Ablyan with share options, and the volume is allocated based on the framework, again to ensure consistency and transparency for everyone. This year, many policies will be updated to better reflect Ably's values, following the upgrade of our gender-neutral parental leave policy.

The progress we've made in the US so far

Ably's US team has grown to 10+ people in just a few short months, with plans to hire dozens more, so providing comprehensive benefits reflective of the US market has been a top priority. To start, we established equivalents to the key benefits offered in the UK:

Share options for all employees
$1,000 year Learning + Development budget
$650 budget for new hires to outfit their home office, plus annual top-up
22 days paid time off, nine federal holidays, and your birthday as a day-off
16 weeks paid parental leave for all types of new parents, gender-neutral
Access to free career coaching via Sanctus and monthly wellness credits via Juno
Weekly UberEats credit

We also had to stand up some benefits unique to the US, specifically around healthcare:

Comprehensive medical, dental, and vision coverage paid 100% for individuals and 60% for dependents

In the spirit of one of our values, even the best do better, so we'll continue to review our benefits package to make sure Ablyans are supported as much as possible. If you have any questions about our benefits, or suggestions on how we can improve further, we'd love to hear from you! If you're interested in applying for a role with Ably, please check out our vacancies.