Realtime is now a core user expectation. Whether you're enabling online communities through realtime chat or creating shared workspaces for remote collaboration, a near instantaneous flow of data forms the backbone of modern software engineering.
As such, most organizations have already had a discussion around whether to buy realtime infrastructure or to build it in-house. To help you to make this decision, our build vs buy series is exploring everything from reducing the risk of delivering realtime experiences, which we covered in our last post, to how it impacts time to market, which we will cover in our next post - which will be the last one in our series. This time, we're focusing on how to reduce the costs of delivering realtime.
Specifically, we'll touch on the opportunity cost of building in-house. When you build in-house, you're diverting money and time away from delivering your product's core functionality. But it's not just a software development cost. There's also the expense of commissioning global edge infrastructure that can efficiently balance traffic, including unexpected spikes. And once built, there's the ongoing cost commitment of maintaining and scaling what you've built.
The cost of building and maintaining realtime infrastructure and capabilities in-house
When you're comparing the cost of building realtime infrastructure in-house versus buying in a solution, there are three main types of cost to consider:
The initial cost of the build
Ongoing maintenance and improvement of the infrastructure
The opportunity cost of what you could have built instead
The cost of building realtime experiences
Realtime is demanding. There's little room for error or downtime. Delivering data with minimal latency across the open internet requires specific engineering expertise and architectural design. As such, building realtime infrastructure in-house is resource intensive.
In the initial build phase, the main cost is people's time. Research for Ably's The State of Serverless WebSocket Infrastructure report shows that the average time to build basic realtime infrastructure is 10.2 person-months. But that's not the end of the story. The complexity of realtime makes it hard to estimate costs. Nearly half of respondents to the research survey identified that costs escalated during development and caused a major challenge.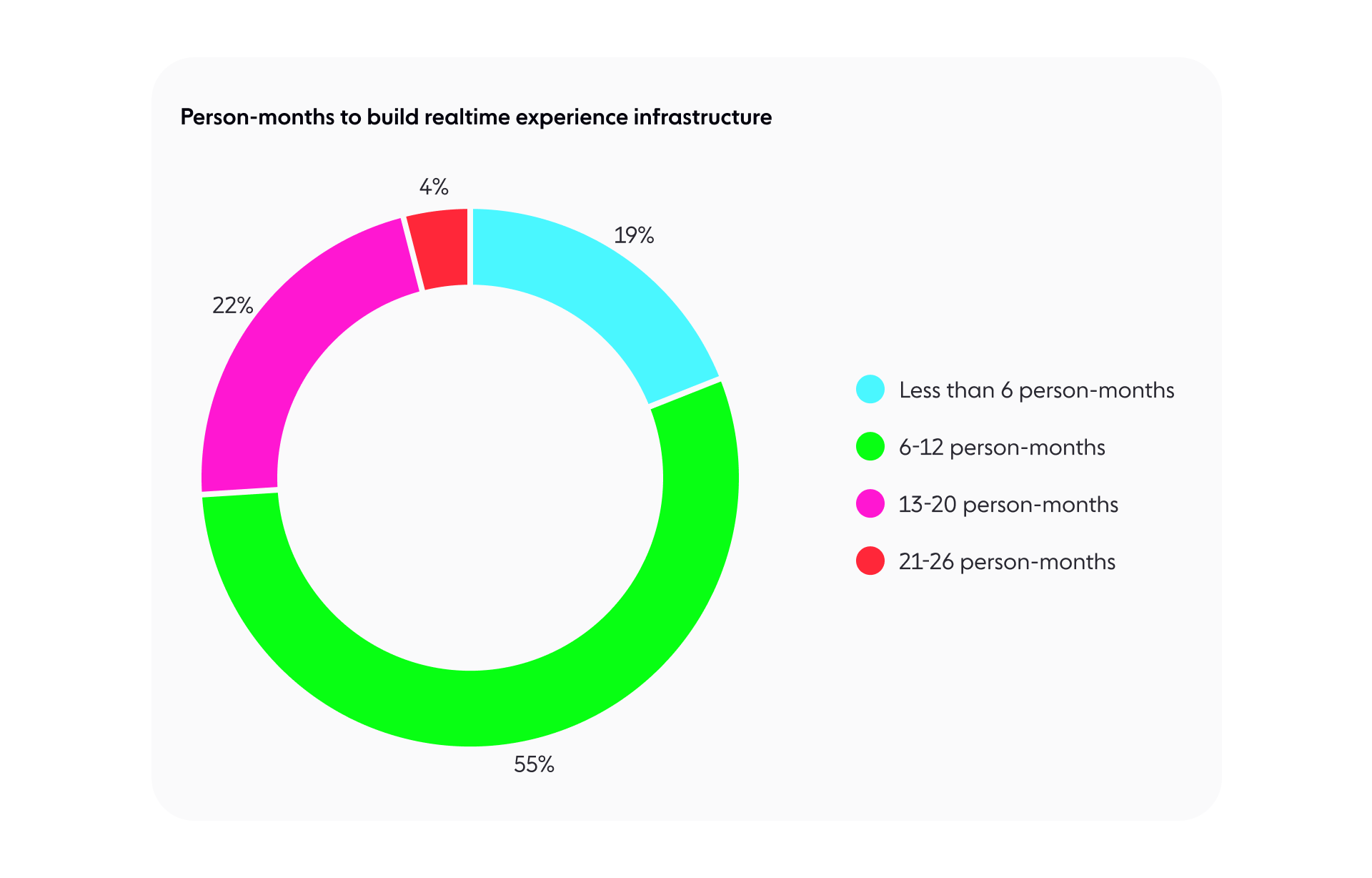 Whether initial estimates are accurate or not, a realtime engineering project will put subsequent work on hold for a significant period. More than 90% of respondents said their projects required between four and ten engineers and 21% said their projects lasted more than six months.
The cost to run, maintain and improve realtime experiences

Like any software development, writing the initial code is just the beginning. Maintaining core infrastructure to support live experiences is a specialized job that will divert headcount from other work, while cloud infrastructure costs will tap your op-ex budget.
The ongoing maintenance costs you can expect from in-house realtime infrastructure fall into two parts:
Engineering time: realtime infrastructure requires dedicated SREs to monitor the service's health, to identify and apply improvements, and to act when problems occur. This will require 24 hour coverage throughout the year.
Server and infrastructure costs: whether it's cloud or bare metal, the ongoing bill for infrastructure in the global locations you need to support can be significant. Respondents to Ably's survey reported between $100k and $200k annual costs.
The opportunity cost of building realtime experiences
But it's not just about the bottom line costs of the project. Engineering headcount is a limited and costly resource. Every hour that a software engineer spends building and then maintaining home grown realtime infrastructure is time that could be spent working on core product functionality.
Close to 70% of in-house realtime infrastructure projects take three or more months to build the initial iteration. As we saw earlier, the average engineering time is 10.2 person-months. That's three months' additional time to market. Perhaps more importantly, it's close to a year of engineering resources that your competitors might be spending on solving end user problems.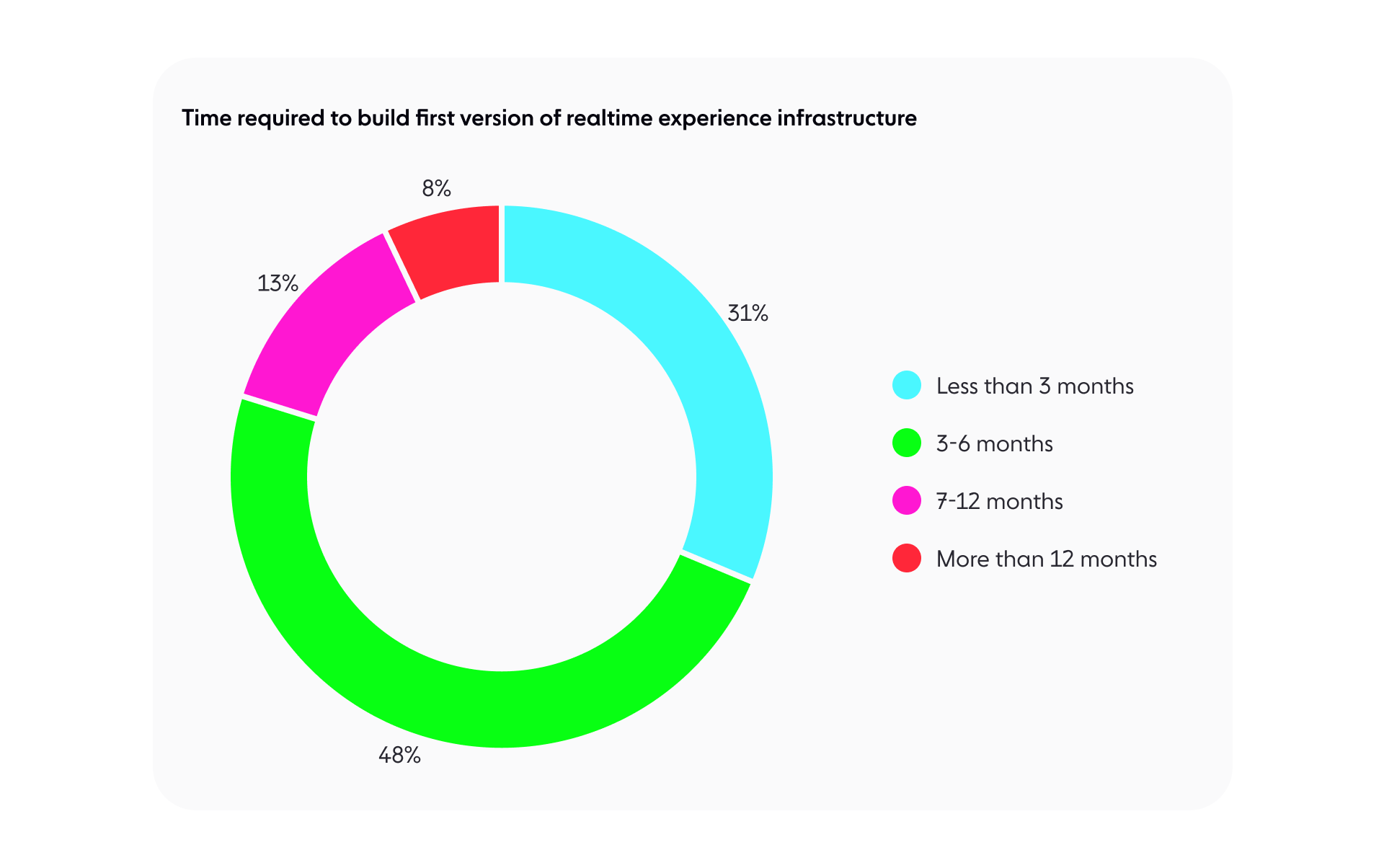 Beyond the initial build, there's the time your team will need to spend maintaining your in-house solution rather than improving your offering. And whilst you are busy  building and maintaining an in-house realtime solution, competitors can invest in delivering functionality that either enables them to grow more effectively or that brings entirely new experiences.
As part of enabling online quizzes, the audience engagement platform Mentimeter needed to provide reliable player leaderboards. As uptake grew, the Mentimeter team found that difficulties scaling their in-house solution held back their growth and product enhancements. Integrating Ably's realtime platform instead enabled them to cope with traffic spikes, as well as increased baseline demand.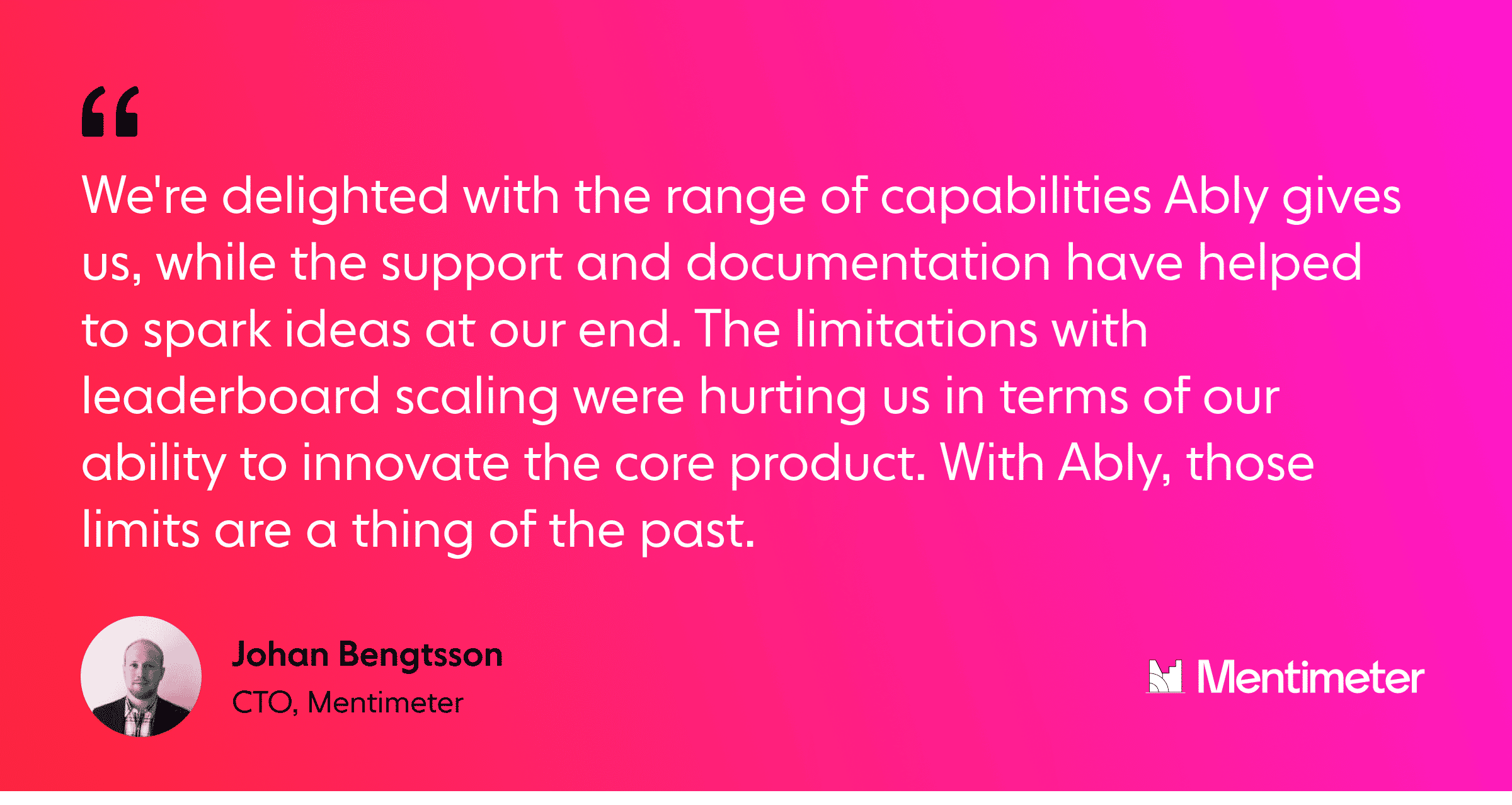 There is also another form of opportunity cost. Respondents to our survey reported that their homegrown solutions experienced an outage or significant downtime within the previous 12-18 months. Such service interruptions impact revenue generation and lead to service level agreement liabilities.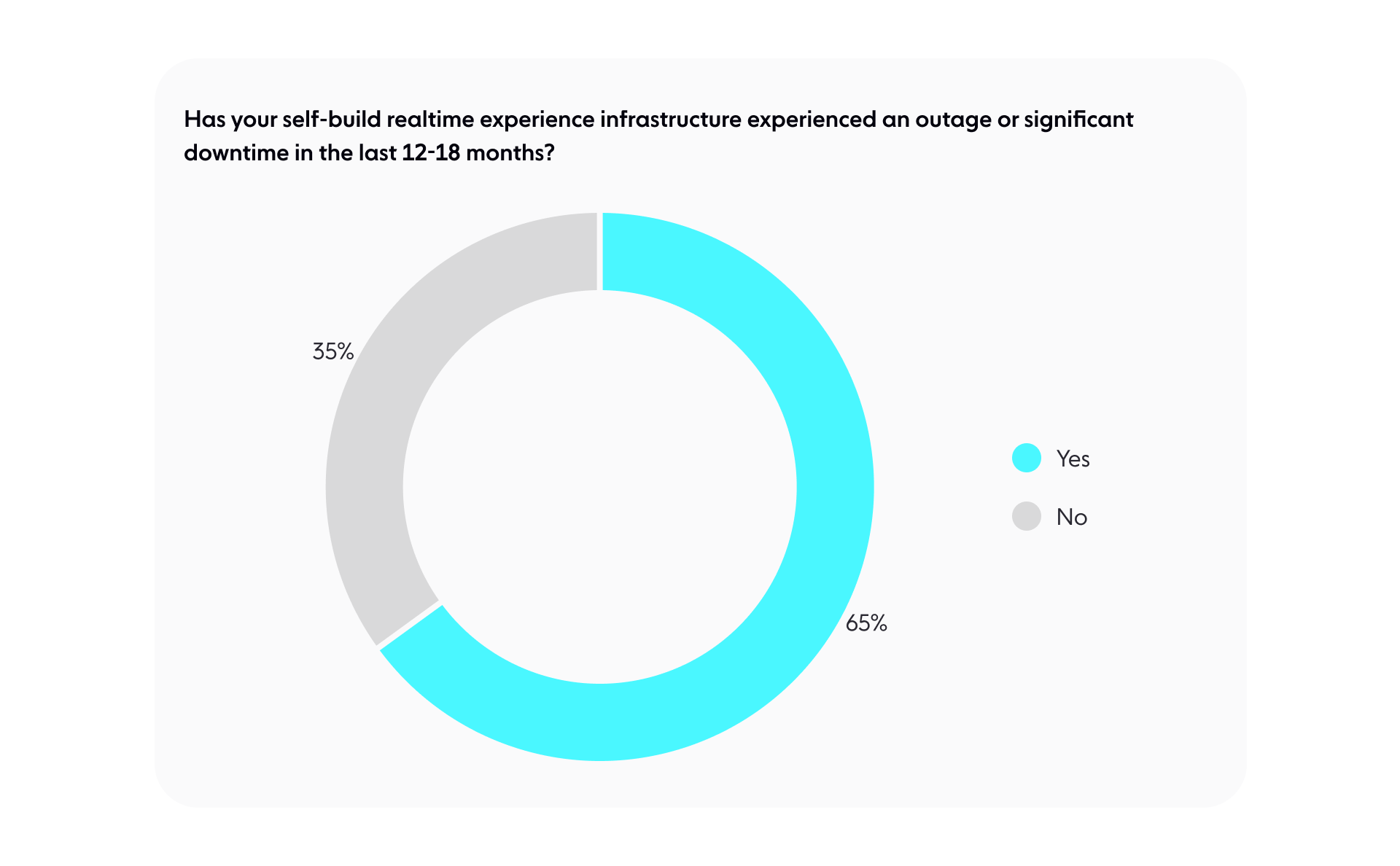 Choosing a realtime PaaS, such as Ably, lets you focus engineering time on solving core customer problems while knowing that your realtime infrastructure needs are taken care of.
What will you save by delivering realtime experiences using a PaaS provider?
Your calculations when deciding between building in-house realtime infrastructure  or using a realtime PaaS come should consider the initial investment, the ongoing maintenance costs, and the opportunity cost.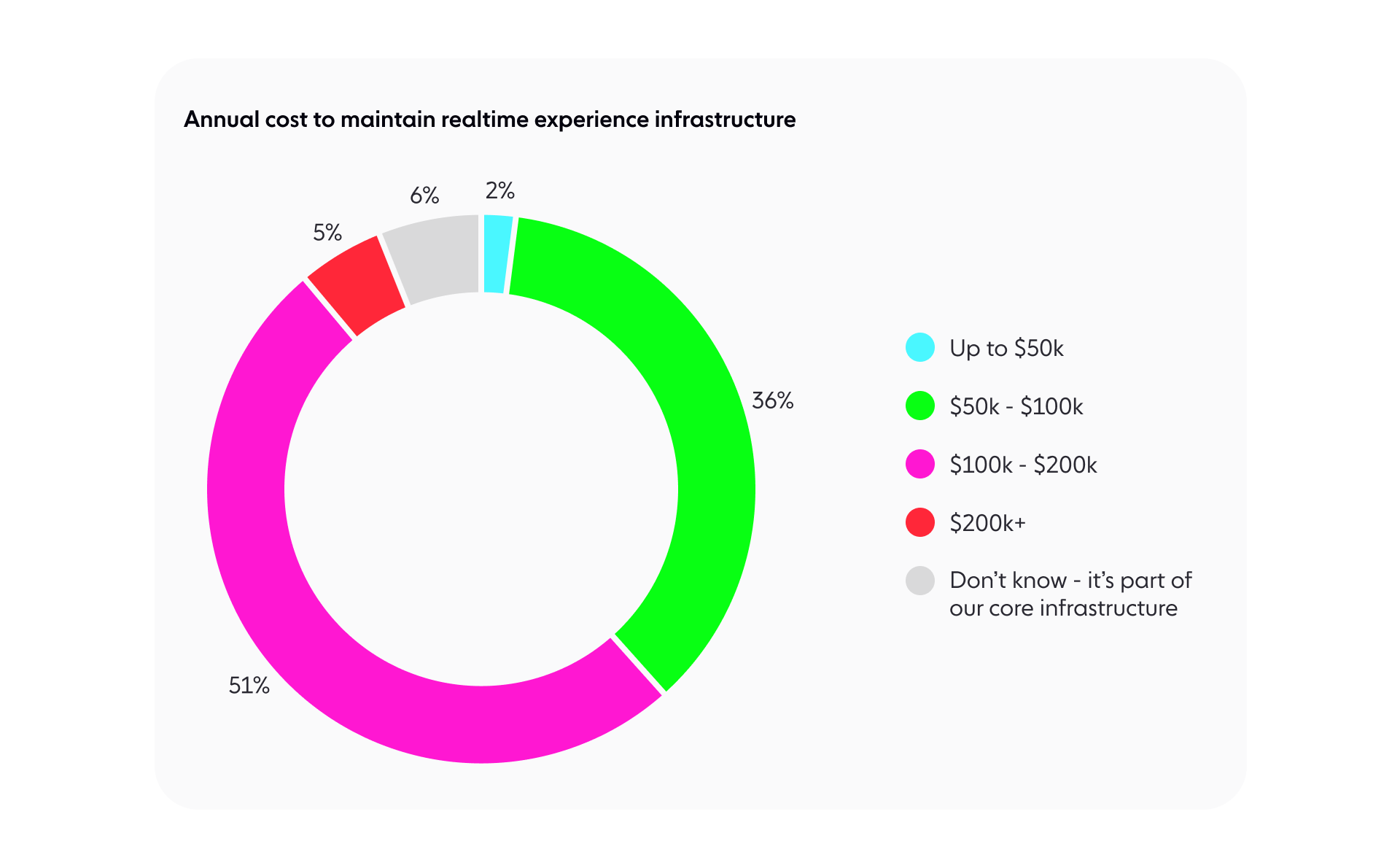 If you select a PaaS provider, such as Ably, you'll see savings across all three. Our research shows that a typical project makes significant cost savings, with typical figures being:
$500k savings on the initial build
$300k+ typical savings on cloud infrastructure costs in year one, with similar savings in subsequent years
Zero DevOps headcount required to provision and maintain home grown infrastructure, such as a cloud servers in global edge locations
Let's dive into those costs. We've seen that the typical in-house build takes 10.2 person-months. What about integration with a realtime PaaS? Research for The State of Serverless WebSocket Infrastructure report shows that the average cost to integrate with Ably's is $25k as opposed to $525k to build an initial homegrown realtime solution.
One argument in favor of DIY solutions is that the ongoing cost might be lower than a PaaS. But our research shows that half of DIY solutions run up between $100k and $200k in cloud fees, with engineering time on top.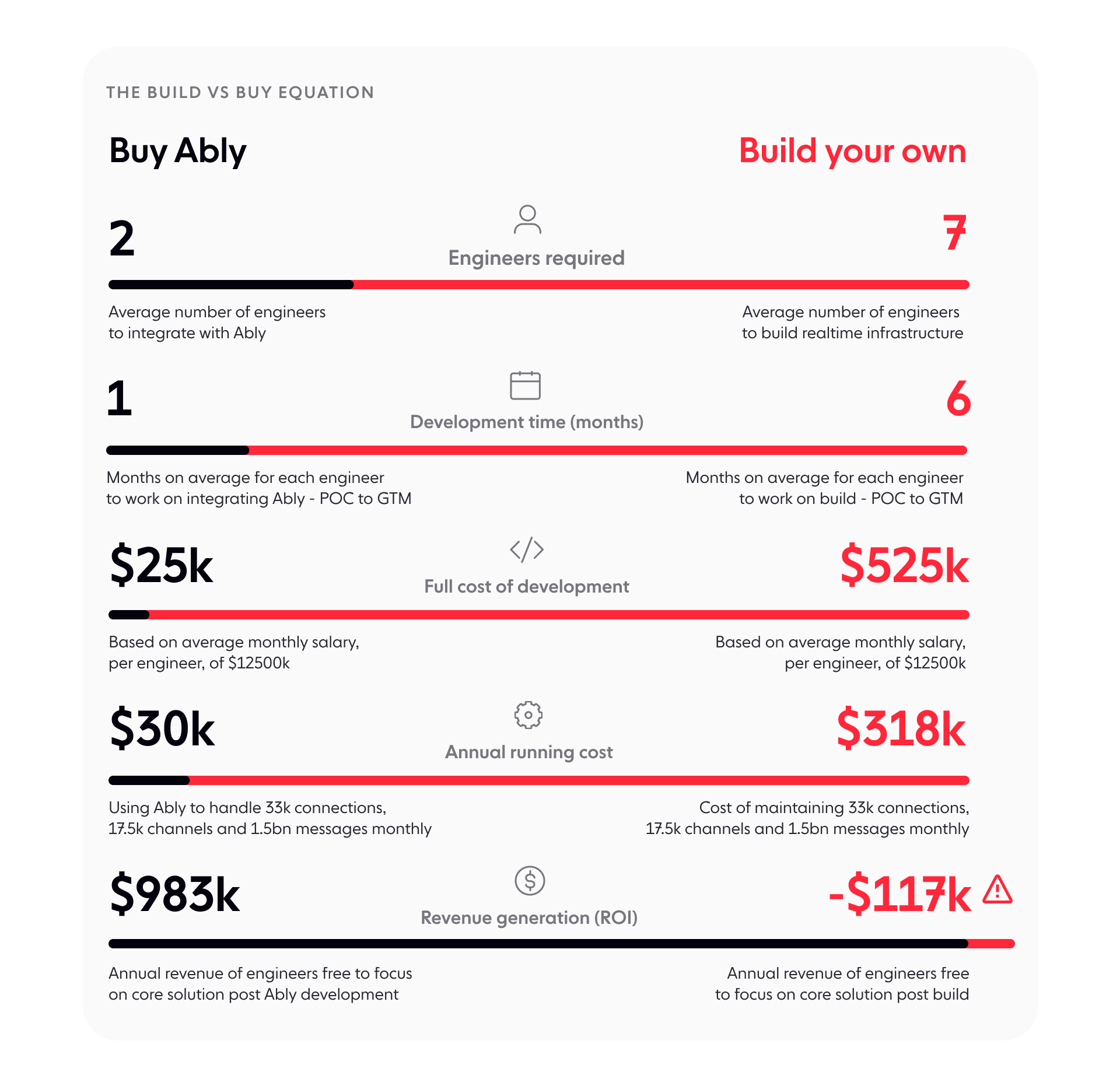 Choosing Ably's realtime PaaS greatly reduces upfront costs, makes ongoing costs both predictable and manageable, and it frees your engineering team to deliver your product's unique functionality.
That's why companies including HubSpot and BlueJeans use Ably to power their realtime experience infrastructure at scale. Discover if Ably is the realtime PaaS to power your business critical experiences by signing up for free today.
---
In case you haven't read it yet, check out the first article of this blog series, where we talk about the different types of realtime experience use cases, and the capabilities needed to deliver them.
Coming soon: The final post in the series, where we will see how to build and launch realtime experiences faster.