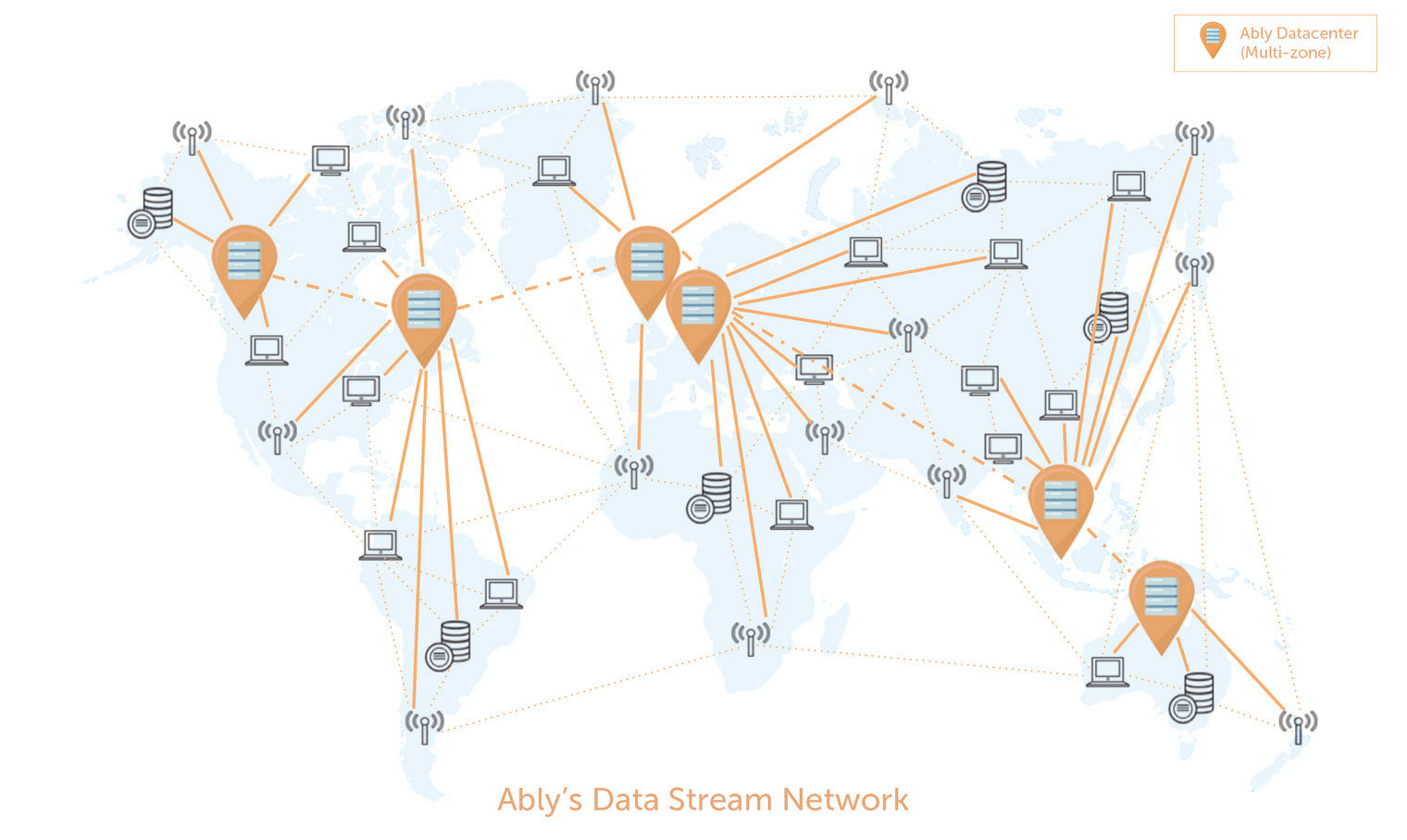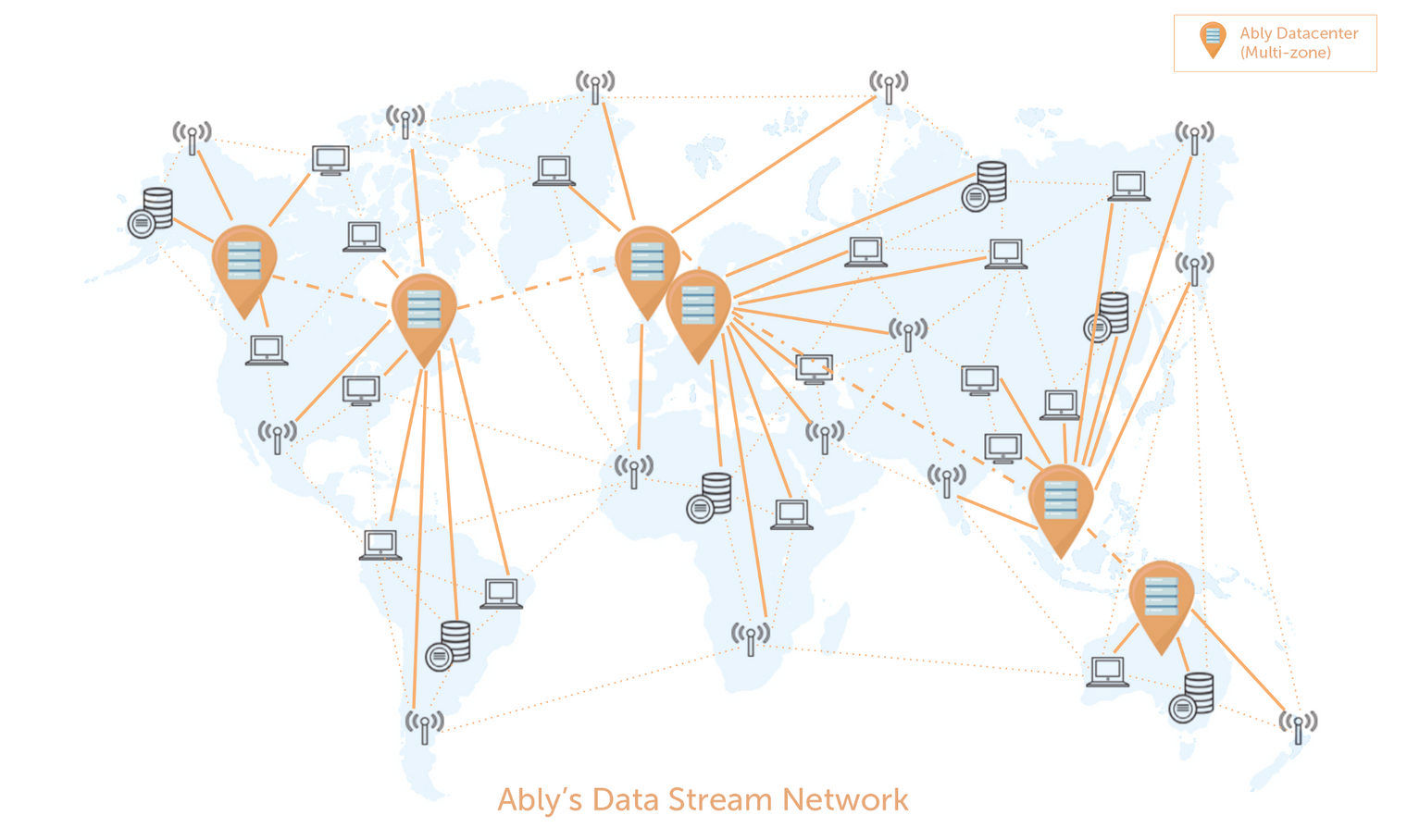 Update October 2019: Ably is now distributed over  16 data centers and 176+ edge acceleration points. Visit our network page to learn more.
Today sees the official launch of Ably, a new UK-based realtime messaging platform developed by Econsultancy co-founder Matthew O'Riordan and former Tao Group CTO Paddy Byers.
Ably, which has been three years in development, was built by a team of more than 25 contributors, led by Matthew and Paddy. It is architected from the ground up to help developers add realtime messaging and streaming data to applications.
Ably was devised to overcome the challenges developers experience in building realtime systems that are reliable, secure and performant.
"Three years ago I realised an opportunity existed to provide a better realtime messaging service. It makes little sense for developers to build and maintain complex realtime messaging infrastructure themselves," says CEO Matthew "so we created Ably to provide it for them. It's a service they can rely on, and which is easy to implement." Read more about Matthew, Ably's USPs, and the full Ably story.
Matthew and Paddy have been joined by Ashley Friedlein as Chairman of Ably. Ashley is an investor in Ably and leads marketing and sales.
Ashley co-founded Econsultancy with Matthew in 1999, and oversaw its sale to Centaur Media plc in 2012.
Ashley comments: "There is an explosion in applications that work in realtime. From messaging and chat apps to realtime customer service; to gaming and betting; to services with live data updates like sport, financial, traffic and weather apps. The internet of things, with sensors streaming data in realtime, will add to the existing opportunities. But this demand for instantaneous data also brings challenges around scale, performance, reliability, security and availability. We believe Ably solves those problems better than any previous product." Read more about Ashley's reasons for joining Ably.
Why is Ably unique?
True High Availability — 99.999% uptime SLA guarantee.
Extremely low latencies globally — messages are intelligently routed through any of the 22 data centres in operation
Message delivery possible even during outages caused by network and/or hardware failures. Ably automatically routes around low-level network and DNS issues. No single point of congestion or failure.
Connection state is maintained on Ably servers for each client ensuring that, in the event of disconnection, nothing is lost. Complemented by a persistent history API, Ably offers by both short term and long term message durability.
Chronological delivery, resolving critical problem of messages received in the wrong order.
Protocol agnostic, supporting popular and new protocols alike.
Binary encoded message formats help performance.
Pay only for what you need, when you need it. Pay as you grow.
Team
Matthew O'Riordan, CEO & Co-founder, Ably
Matthew is a serial entrepreneur with over 15yrs programming experience.
Matthew was Co-founder and Technical Director of Aqueduct, a leading digital agency in London and Founder of easyBacklog, a SaaS agile backlog management tool.
Matthew co-founded Econsultancy, a global digital marketing publishing, training and research business, with Ashley Friedlein and exited via a £25m trade sale to Centaur Media plc in 2012.
Dr Paddy Byers, CTO & Co-founder, Ably
Paddy has over 20 years experience building and leading software teams.
Paddy was CTO for 8 years of Tao Group, creators of the intent virtual OS, and the first full Java VM for mobile.
Paddy is a security and realtime technical specialist and an active open source developer and contributor to node.js.
Paddy holds a degree in Mathematics from Cambridge University and a PhD in Theoretical Computer Science.
Ashley Friedlein, Chairman, Ably
Ashley co-founded Econsultancy, expanding it across APAC and the US before selling to Centaur Media plc in 2012. He is now President of Centaur's Marketing and Digital brands.
Ashley is a world-renowned author, speaker and advisor on digital marketing and e-commerce. He is an advisor to the UK Government's Digital Service and an investor in e-commerce recruitment specialists Cranberry Panda.