Ably for EdTech
Create interactive experiences that students expect and teachers can rely on
Engage students with digital classrooms and interactive learning experiences in a world where education is rapidly shifting to digital-first.
View this live code example on GitHub to build your own interactive whiteboard
---
Provides interactive learning experiences for 30m students around the world.

A realtime device management platform for schools with over 7m devices managed.

A remote learning platform with realtime interaction and feedback mechanisms.

Live browser-based code challenges designed to develop mastery of coding skills.
Keep students engaged, help teachers deliver effective learning programs, and empower schools with safe digital spaces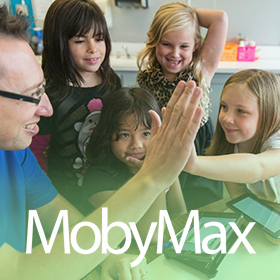 MobyMax case study
MobyMax provides targeted e-learning tools to fix learning gaps.
View case study
---
The complete realtime data synchronization stack for any EdTech requirement
Pub/Sub messaging
Publish messages to millions of subscribers over channels that support multiplexing.
Device & user presence
Know when devices or users are online by subscribing to presence events.
Message history
Retrieve past messages up to 72 hours in the past. Useful for chat or live feeds.
Stream resume
On disconnect we keep state and retry connection every 15 seconds for two minutes.
Message ordering
Ably guarantees all messages are delivered in the same order as originally published.
Flexible security
Authenticate clients directly using API keys or use secure Ably or JWT tokens for users.
Multiprotocol
Ably supports pub/sub over WebSockets, MQTT, and Server-Sent Events (SSE).
Integrations
Trigger business logic (e.g. AWS Lambda) or process data elsewhere (e.g. RabbitMQ).
A Pub/Sub platform engineered around Four Pillars of Dependability
Delivering seamless experiences to your customers is vital, that's why we created the four pillars. This mathematically modelled approach to system design guarantees critical functionality at scale.
Get started right now
Documentation
Rapidly build production-ready realtime capabilities with quickstart guides, realtime concepts, and full API reference.
Read the docs
Tutorials
Our step-by-step tutorials and demos will help you learn Ably and understand what our realtime platform is capable of.
Browse the tutorials
25+ Client Library SDKs
We support the environments, languages, and platforms you work with. Ably fits into your stack wherever you need us.
Download an SDK