Ably for ecommerce and retail
Provide realtime pricing, inventory, and transactions that enrich your user experience
---
Provides realtime pricing updates for millions of consumer-to-consumer auctions in its marketplace app.

Powers a platform providing realtime seat booking capable of serving millions of simultaneous ticket buyers.

Enables realtime transactions for an all-in-one cloud-based point of sale system deployed in over 100 countries.

Helps brands deliver realtime audio, visual, and social experiences in-store.
Keep shoppers engaged with realtime features that enhance your brand experience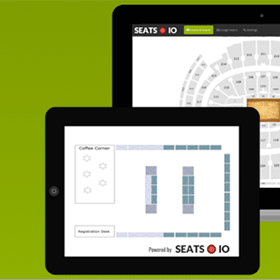 Seats.io case study
Seats.io brings realtime seat updates for live events ticket buyers.
View case study
---
The complete realtime data synchronization stack for eCommerce and retail experiences
Pub/Sub messaging
Publish messages to millions of subscribers over channels that support multiplexing.
Device & user presence
Know when devices or users are online by subscribing to presence events.
Message history
Retrieve past messages up to 72 hours in the past. Useful for chat or live feeds.
Stream resume
On disconnect we keep state and retry connection every 15 seconds for two minutes.
Message ordering
Ably guarantees all messages are delivered in the same order as originally published.
Flexible security
Authenticate clients directly using API keys or use secure Ably or JWT tokens for users.
Push notifications
Notify all subscribed devices over a channel or directly using APNs or FCM.
Integrations
Trigger business logic (e.g. AWS Lambda) or process data elsewhere (e.g. RabbitMQ).
A Pub/Sub platform engineered around Four Pillars of Dependability
Delivering seamless experiences to your customers is vital, that's why we created the four pillars. This mathematically modelled approach to system design guarantees critical functionality at scale.
Get started right now
Documentation
Rapidly build production-ready realtime capabilities with quickstart guides, realtime concepts, and full API reference.
Read the docs
Tutorials
Our step-by-step tutorials and demos will help you learn Ably and understand what our realtime platform is capable of.
Browse the tutorials
25+ Client Library SDKs
We support the environments, languages, and platforms you work with. Ably fits into your stack wherever you need us.
Download an SDK