Retail's great revolution from bricks and mortar to e-commerce might have seemed complete. But another chapter of the story is being written. As in-person retail fights back by focusing on in-store experience and service, a new online retail trend is helping to replace the human factor otherwise missing from e-commerce.
Live stream shopping combines the teleshopping of old with the culture, scale, and delivery costs of realtime video streaming platforms like Twitch. As something virtually brand new in regions such as North America and Europe, it's an area of huge innovation and growth where retailers large and small are experimenting to learn what works. But we can get a taste of what might be coming next by looking to China, the home of live video shopping.
E-commerce giant Alibaba's Taobao launched live stream shopping in China in 2016. Since then, it has grown to be a major part of that country's "Single's Day" holiday and is forecast to be worth CNY 4.29 trn (more than US $622 bn) in 2023.
Here we look at the different ways that live stream shopping can add value to your business and the considerations you'll need to make when deciding how to create your live commerce experience.
How does live streaming create value in e-commerce?
Convenience, greater selection, and lower prices were the key promises of early online shopping. And, without a doubt, online retail has delivered. At no point in the history of humanity has it been easier to shop for lightsaber chopsticks at 2am. Nor cheaper!
But online retail is a mature market. As an intrinsically low touch channel, it's hard for traditional e-commerce retailers to differentiate themselves by offering unique experiences or enhanced customer service. When price comparison is just a click away, or even baked directly into the browser, a dollar difference can easily result in a lost sale.
And, although low prices and convenience are to be welcomed, from the shopper's perspective that isn't necessarily enough. For many people, shopping in-person is as much about a day out as it is transactional.
Live stream e-commerce offers the retail industry an opportunity to rebalance that by helping to make online retail into an experience in its own right. But there isn't yet a proven model for how to approach live stream shopping. Creating the infrastructure, nurturing talent, and finding an audience all require investment with no guarantee of a return. So, why should retailers take the risk?
Done well, live stream shopping offers significant benefits over the status quo, including:
Improved discovery: even with the best recommendation engine, online shopping often lacks the spontaneous discovery of browsing in person. In live video shopping, the host and even other viewers can introduce the audience to relevant products that they wouldn't otherwise come across.
Greater engagement: live commerce demands the shopper's full attention. With chat, reactions, and a show designed to maintain interest, live stream shopping is an active experience, as opposed to the typically passive model of shopping online.
More trust: consumers respond to the human connection. Live streaming e-commerce allows a skilled host to build rapport and trust with their audience, while using social proofs such as thanking buyers for their purchases.
Deeper loyalty: Twitch users watch an average of 95 minutes per day, often returning to a handful of preferred streamers. Working with existing streamers and adopting streaming techniques allows retailers to build a similarly dedicated audience.
Better retention: research shows that an omnichannel retail approach boosts customer retention from an average of 33% to 89% by meeting customers where they are at the moment that they want or need to make a purchase.
Realtime validation: with live streaming, the success of a technique or a product is quickly apparent. Retailers can adjust their approach instantly based on sales figures and audience feedback.
The best live streaming use cases in e-commerce (with examples)
Since Alibaba popularized live commerce in China, there has been an explosion in creativity. Retailers large and small have experimented with different models and use cases. Here are five of the most prominent formats for live video commerce.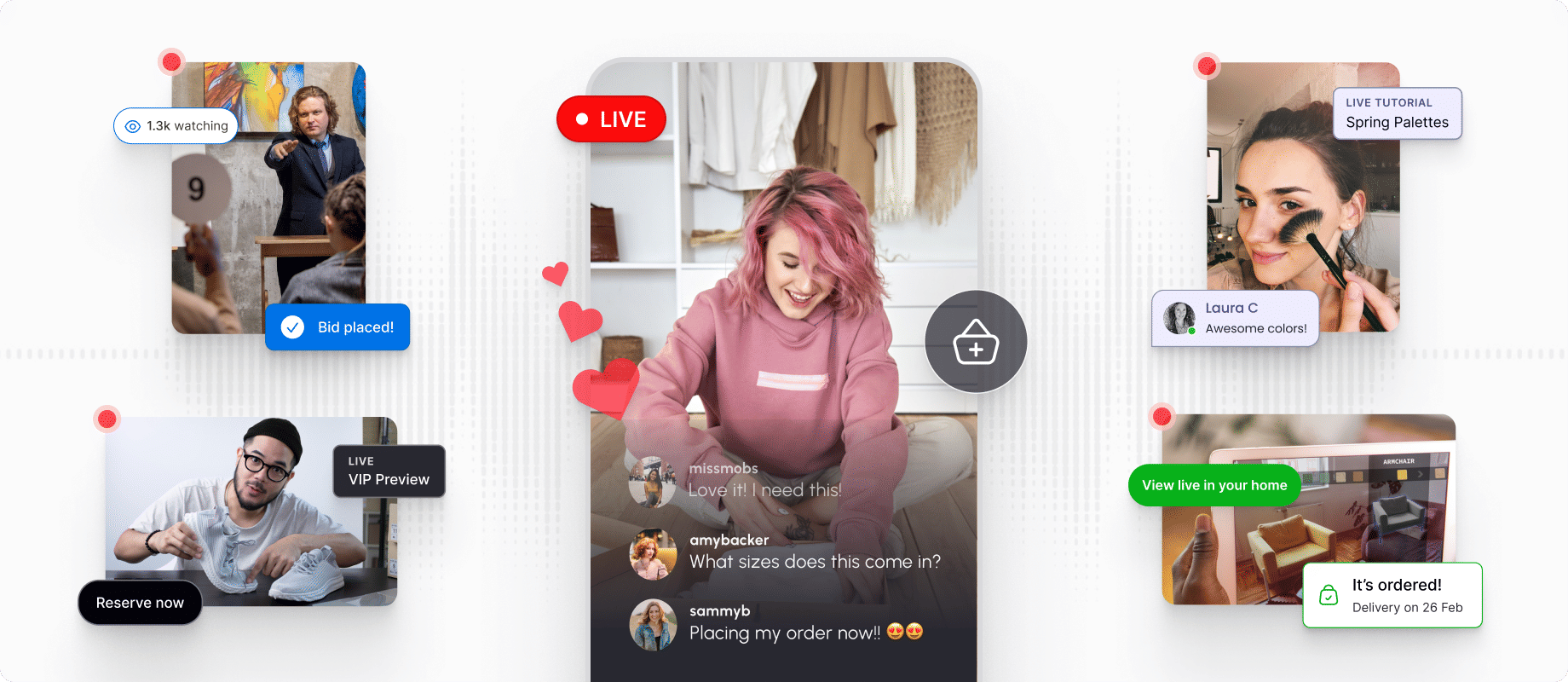 1. Influencer streaming
Bringing social media and retail together reduces friction and opens brands to new audiences. Such social commerce generated $727.63 billion in revenue in 2022. Similarly, influencer marketing alone was worth $16.4 billion in the same year.
The reach and, of course, influence of social media personalities bypasses traditional media and channels. For Gen Z audiences, this is particularly relevant. Research shows that younger consumers have low trust in traditional representatives of authority, such as government, businesspeople, and even mainstream celebrities. But they do trust people who present themselves as experts in a particular field. This meshes with the rise of influencers who specialize in make-up, video gaming, and so on.
Amongst that same group, 97% say they use social media as their main source of shopping inspiration. Amongst YouTube viewers, 89% say they trust recommendations made by the creators they follow.
Mainstream social media platforms such as TikTok, YouTube, and Instagram have experimented with enabling live video shopping through their platforms but without necessarily committing longer term. However, brands are establishing their own live shopping channels where they collaborate with relevant social media influencers.
Example: Tommy Live
Fashion brand Tommy Hilfiger hosts its own Tommy Live video shopping site and runs live shopping events on YouTube, working with influencers such as Leomie Anderson. One Tommy Live stream in China drew an audience of 14 million people and generated sales of 1,300 hoodies in just two minutes. With almost half the brand's sales now coming from outside the US, the brand is looking to build on the success of live shopping by expanding its reach into the metaverse with early forays into games such as Animal Crossing and Roblox.
Influencer streaming has also been used by underwear brand Knix delivered a similar collaboration with Canadian influencer Sarah Nicole Landry to support the launch of its swimwear range, and fashion brand Kohl's has worked with multiple influencers for TikTok live shopping streams, amongst other brands.
2. Live auctions
People have been participating remotely in live auctions for almost as long as there has been a telephone network. But typically that relies on having a trusted agent present in the auction house.
Live streaming makes it easier for such auctions to take place entirely remotely. In one of its first forays into live streamed auctions, world renowned auction house Sotheby's generated more than $362 million in sales over a five hour session. The highest sale price during that auction was $84.6 million for a Francis Bacon triptych.
While high art makes the headlines, most auctions deal in less glamorous stock such as cattle, farm machinery, vehicles, and unloved real estate.
Example: Live video real estate auctions
Some types of commerce suit themselves better to live video shopping than others. For example, farmers might want to inspect livestock in person or a car dealer will most likely make mechanical checks. But live streaming for real estate auctions is ideal. Buyers know that, even when taking part in traditional real estate auctions, they need to visit the properties before the bidding begins. Whether in person or online, potential buyers must rely on photographs and product descriptions once the auction begins.
UK property auctioneers SDL have made the switch to live video property auction, selling around 100 residential properties per month that way.
3. Personal shopping for high end goods
Almost a third of high end fashion brands headquartered in France, with many of the others in western Europe or the US. However, the second and third largest markets for luxury brands are China and Japan. Bring buyers and brands together is often costly, as the consumers of luxury goods expect a high level of service and experience.
Nonetheless, the opportunity is there. According to Deloitte, the top 100 luxury brands generated sales of $305 billion in 2021. Live video shopping enables those brands to deliver the high levels of service their buyers expect through a personal shopping experience that can reach anywhere in the world.
Example: Gucci Live
In 2020, fashion brand Gucci unveiled its personal live video shopping experience named Gucci Live. Based in a purpose built facility in Florence, called Gucci 9, the brand set out to recreate the in-store personal shopping experience where consumers receive advice, can explore products, and feel valued by the brand.
Luxury live shopping seems set to expand, too. Gucci is already planning to establish further Gucci Live studios around the world and research by Bain shows that 70% of luxury goods purchases are influenced by an online interaction.
4. Product tutorials and demonstrations
One of the weaknesses of online shopping has been its ability to explain more complex product offerings. Even the most compelling written content beautifully presented won't reach or persuade everyone.
Beauty and skincare brands have offered video tutorials on how to make the most of their products for some time. Clinique's Skin School, for example, offers one-on-one consultations via live video calling. Some brands are taking the next step and making it easy for stream viewers to become buyers.
Example: NARS
French make-up brand NARS offers themed live video shopping events where make-up experts teach the audience a particular technique and viewers can both ask questions and buy the products discussed right within the live stream interface.
And it's not a surprise that make-up brands in particular are taking the live commerce approach. Research by Klarna shows that, in 2021, 71% of Gen Z and 69% of Millennials were planning to make holiday purchases via live stream shopping.
5. Augmented reality (AR)
The live video shopping use cases that we've discussed so far are all recognizable progressions from a typical in-person form of shopping. Arguably, AR brings something entirely new.
Still in its infancy, AR live shopping uses a consumer's mobile device to situate virtual representations of products within that person's home or other space.
Examples: IKEA PLACE
Furniture retailer IKEA launched PLACE, its AR app, in 2017. By combining virtual 3D representations of furniture items with the live feed from the phone's camera, IKEA's app enables shoppers to preview how a sofa, bed, or bookcase might look in their home.
Market research shows that the value of AR in retail is set to grow from $2 billion in 2021 to $61.3 billion in 2031. Today, jewelry is the largest segment for AR retail with footwear expected to see the largest growth.
Live commerce is more than live streaming - four more ways to upgrade your shopping experience
IKEA's experiment with AR is just one of the ways in which retailers are pushing live shopping beyond only video. For hundreds of years, if not longer, people have developed reliable methods of merchandising and engaging shoppers when it comes to in-person retail. But as a new channel, live commerce is a melting pot of exciting new ideas and approaches.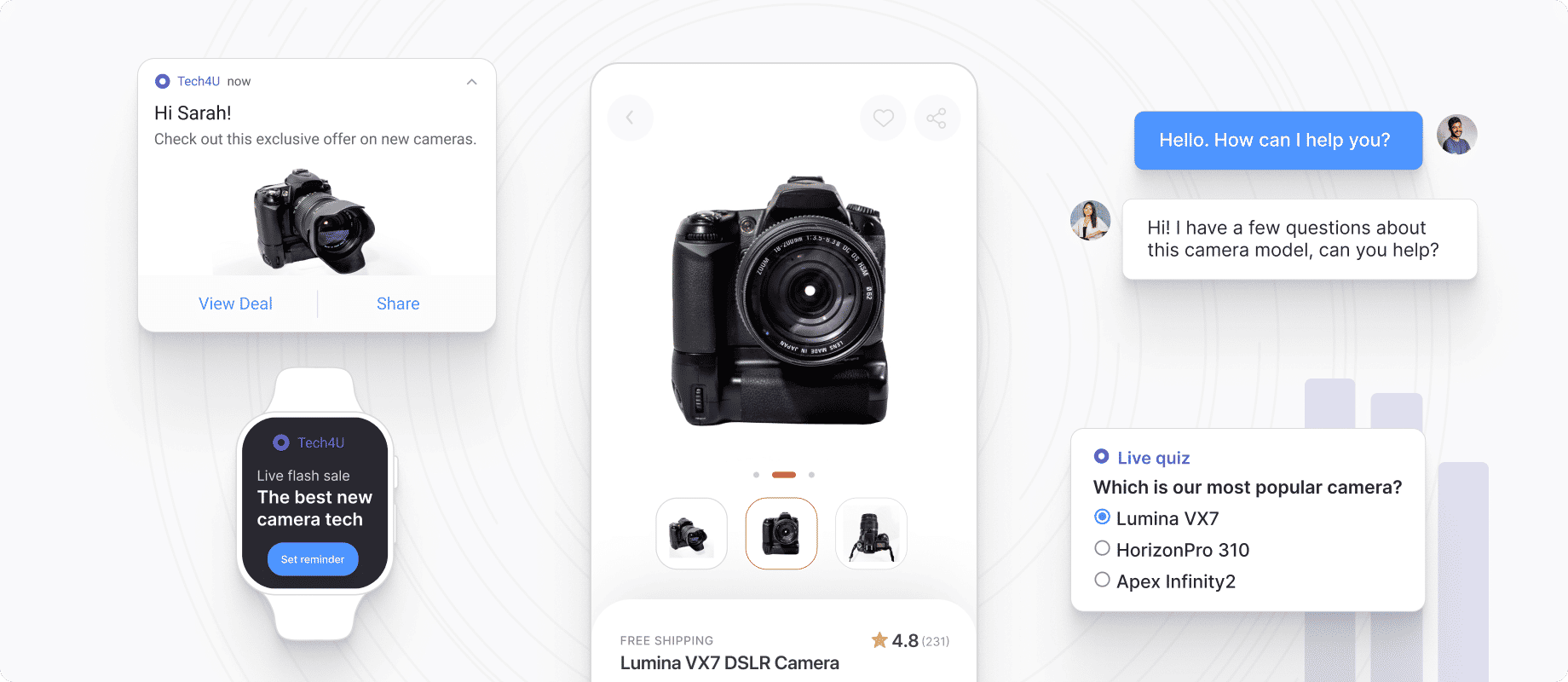 Here are four ways that you can enhance your live shopping experience:
Widgets
Teleshopping pioneer QVC bolstered its multichannel strategy with the launch of live video shopping in 2021 alongside its TV channels. The QVC mobile app now enables shoppers to pin a widget to their device home screens that notifies them of upcoming events and offers, as well as displaying the item currently shown in the stream. QVC also has an Apple Watch app that displays live product information.
Quizzes
Quizzes help recreate the two way engagement of in-person shopping by appealing to people's sense of fun. Online engagement platform Mentimeter uses Ably to deliver live experiences with tens of thousands of concurrent participants.
Themed quizzes built into your live shopping experience can help build your audience or act as a secondary strand to keep consumers logged in during downtime or when you're showcasing products that interest them less.
Live chat
Enabling shoppers to ask questions of the retailer or even to engage with each other is a core part of many live commerce offerings. Just as a shopper would ask an assistant questions in a physical store, live video shoppers want to ask about the products available. Live chat enables retailers to field questions using an off-screen team, freeing the host to present the products on camera.
Notifications
The live nature of video shopping risks clashing with the other commitments in shoppers' lives. Push notifications enable you to remind consumers of upcoming planned events and even to surprise them with exclusive special events and personalized deals.
How to deliver a competitive live commerce experience
If you're considering live commerce for your brand, here's what you'll need when choosing or building your live shopping platform.
Scalability: 527 million people made a purchase as part of Taobao's 2022 Singles' Day event. While it's unlikely for a single Western retailer to hit such a number, you need underlying live streaming infrastructure that can stream on demand without putting additional burden on your team.
Low latency delivery: in the case of a live auction site, delays in video delivery could result in losing bidder confidence as they're unsure of whether they are seeing the current status of the auction. Other forms of live video shopping are perhaps less sensitive to latency but the further the experience drifts from realtime the less engaged shoppers will feel.
Reliability: consumer confidence in a relatively new channel depends on giving customers no cause for doubt. Shoppers should know that each time they use your live commerce platform they'll have a smooth experience.
Simple integrations: live video shopping needs to work with existing payments, inventory, shipping, and other retail infrastructure.
Ownership of the infrastructure: after initial launches, both the Facebook and Instagram live shopping platforms have closed. Make sure you control your live commerce infrastructure before making an investment.
How you deliver on each of these will depend on which approach you to take. The potential of live shopping is enormous and much is yet undecided. Livestream revenue in the US is forecast to reach $55 billion by 2026. To capture part of that market you'll need a live commerce platform that gives you the flexibility to experiment while taking care of reliable, scalable realtime data delivery.
While there are off the shelf live shopping platforms available, only a realtime platform as a service (PaaS) will let you build a custom solution backed by a specialist partner.
Upgrade your e-commerce experience with Ably
Ably is a realtime PaaS that gives you the tools and infrastructure to upgrade your live commerce solution with engaging realtime features. Rather than creating your own solution from scratch, building on top of Ably saves your engineering team from architecting, building, and maintaining complex global realtime infrastructure.
Specifically, working with Ably will give you:
Predictable low latencies: Ably's global edge network delivers realtime data efficiently and with a median latency of less than 65 ms, enabling the predictability and stability live commerce demands.
Highly scalable, highly available infrastructure: Global brands such as Toyota and Hubspot have proven that Ably's infrastructure scale effortlessly and reliably to millions of concurrent users.
Integrations with common languages and frameworks: With client libraries and tailored documentation for more than 25 languages and frameworks, Ably is ready to integrate with your tech stack.
Reduced build and maintenance costs: The savings of using Ably are significant, with a typical 21% lower cost and up to $1 million saved in year one.
You can try Ably free to see how our realtime PaaS makes it easier and more cost effective to build your live commerce platform.