A recent GartnerⓇ report recognizes Ably as playing a critical role in powering meaningful online experiences by extending event-driven architectures to the edge. Within the spectrum of event-driven architecture use cases, Ably reaches end-user devices with last-mile connectivity: it's at the heart of what we do. Ably is edge messaging!

Many of our daily online experiences happen live: from receiving instant score updates, tracking a food delivery, or sending chat messages and emoji responses during a livestream. Such everyday experiences are underpinned by intricate event-driven architectures (EDA), forming a backbone that extends from inside the secure cloud to end-user devices at the edge.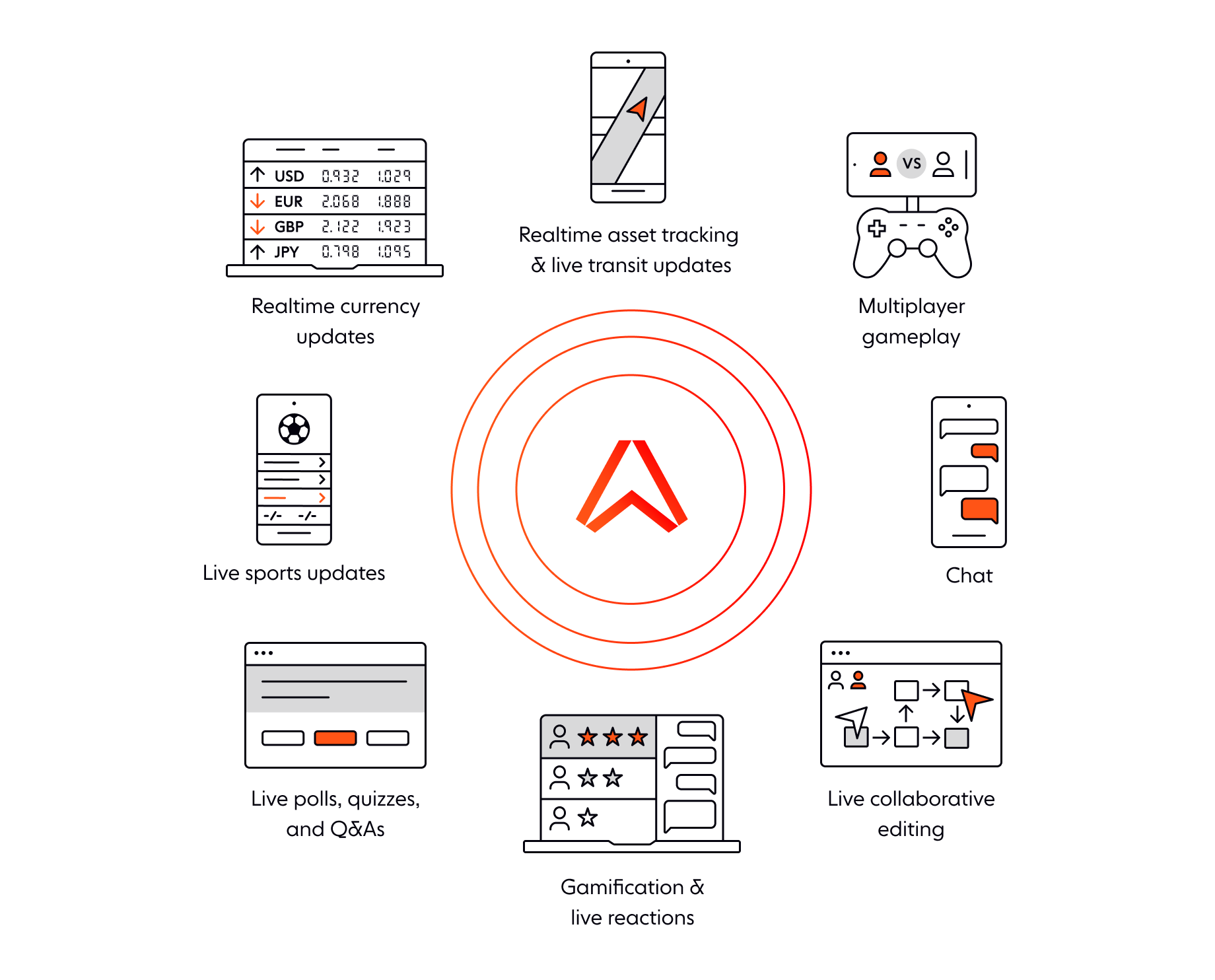 In the 2021 Gartner® report✝ on the event-driven architecture (EDA) market, the analysts Keith Guttridge and W. Roy Schulte explain that "Gartner client inquiries on event-driven architecture increased by 90% between 2019 and mid-2021".
One of the report's key insights is that, across the spectrum of event-driven architectures, there are different types of event brokers. As the demand for EDA rises, the kind of event broker selected for any particular use case needs to be fit for purpose. A broker that solves one specific use case does not necessarily work well in a different scenario.
One such use case manages low latency distribution to end-user devices at the edge and is named by Gartner as edge messaging.
According to the report✝:
"Edge messaging aims to provide reliable event distribution between devices and data centers — both from the device to the data center and from the data center to the device. It is delivered as a localized service within an application domain, lending itself to federated ownership."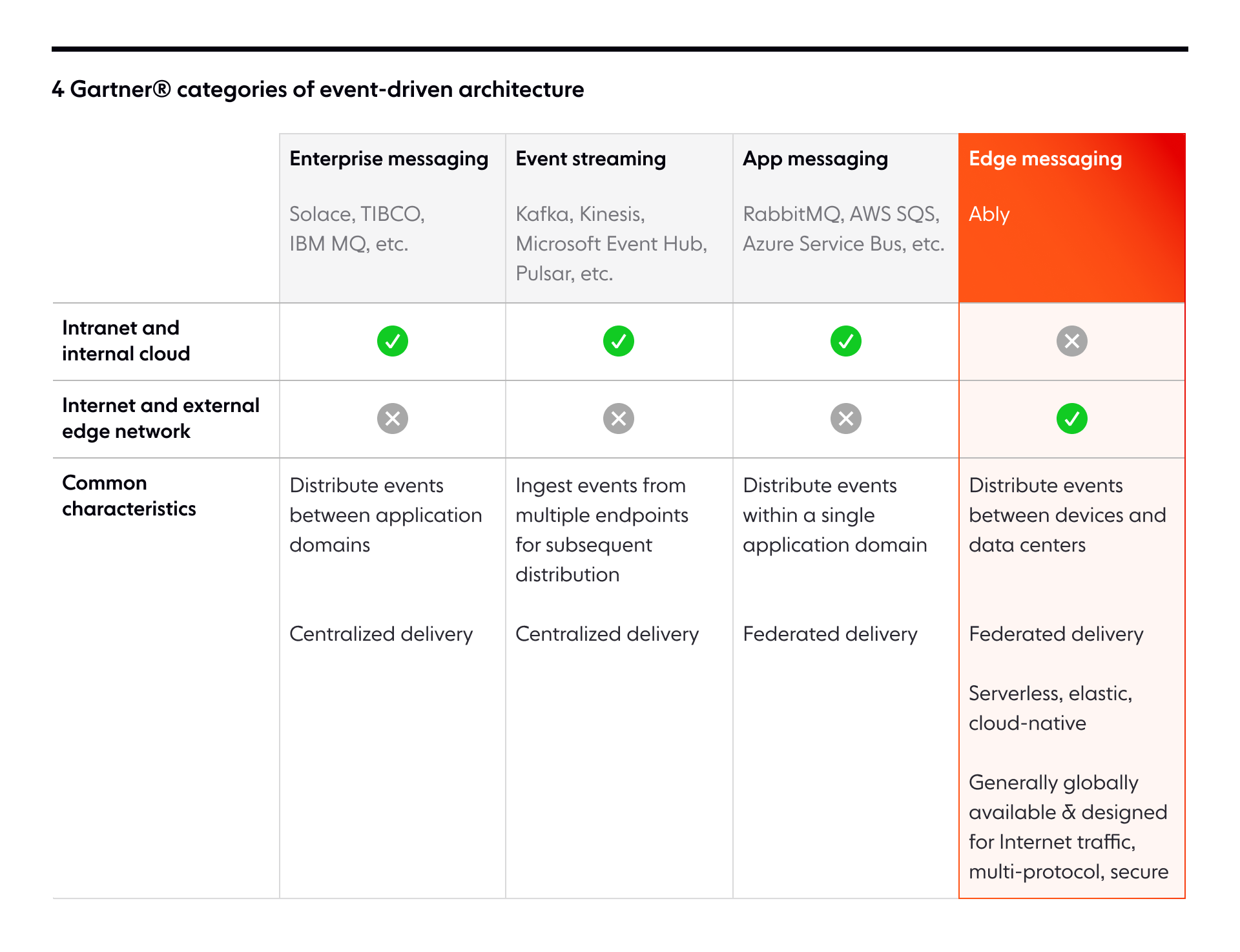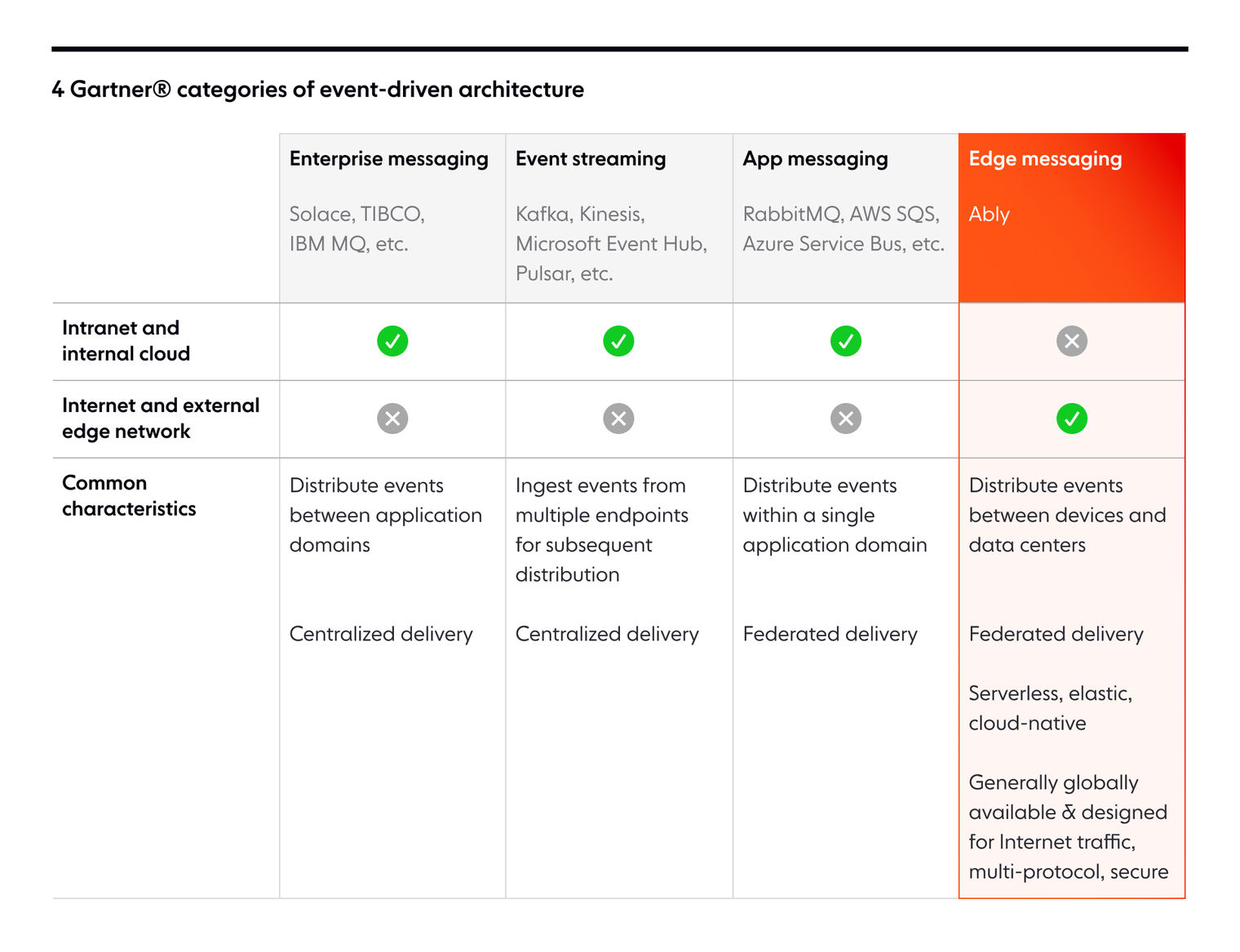 "We believe that Gartner's definition of edge messaging as a use case speaks to the increasing demand for reliable, low latency data distribution to end-user devices," said Matt O'Riordan, CEO of Ably. "Ably is named a frequently-used edge messaging broker in the Gartner report in recognition that we power shared live experiences that demand high performance."
Ably was founded to reinvent last-mile connectivity at scale. We are transparently present in multiple data centers, so we're much closer to devices on the edge than a conventional single-region service. We build and operate an edge messaging platform that provides APIs to power live and collaborative online experiences. Due to the critical nature of these online experiences, Ably's platform is guaranteed by our four pillars of dependability: predictable performance, guaranteed ordering and delivery, fault-tolerant infrastructure, and high scalability and availability.
Customers like HubSpot, Toyota, and Webflow already trust Ably to power shared live experiences for millions of simultaneously connected devices worldwide. More brands are discovering that live and collaborative online experiences are no longer a nice to have; they're essential for retaining and growing their customer base.
For Ably, Gartner-named category recognition is just the beginning. Edge messaging is set to become critical, and we're looking forward to helping companies everywhere build the live digital experiences that are coming next. If you're building shared live and collaborative experiences, our global network provides the APIs to power your live applications at scale. Get in touch and see what Ably can do for you!
---
✝ Gartner report: "How to Identify Your Event-Driven Architecture Use Cases to Select the Best-Fit Event Broker",  Keith Guttridge and W. Roy Schulte, 27 July 2021. GARTNER is a registered trademark and service mark of Gartner, Inc. and/or its affiliates in the U.S. and internationally and is used herein with permission. All rights reserved.